Building houses and shattering glass ceilings
An ambitious local initiative is working to change the statistics around womenin the construction sector and break down barriers.
WORDS Beatrice Smith
PHOTOS Adam McGrath
Across the world, cracks are forming in glass ceilings. By November 2020, women held 32.1 per cent of seats across Australia's top 200 boards and female politicians now hold the majority in the Senate for the first time ever.
In the Australian construction industry, however, it's a different story. While statistics show promising growth with the overall number of women in construction roles increasing by 34% in five years—from 44,583 in 2015 to 59,587 in 2020—this is a small drop in the ocean when it comes to Australia's 1.2 million-strong construction workforce.
But an ambitious local initiative is working to change these statistics and showcase Canberra's female talent in the sector.
The Strathnairn Charity House may currently be a concrete slab with one of the best views in Canberra, but it represents something far bigger—the collaboration of dozens of women across myriad roles—from architecture and interior design, to electricians, builders, carpenters, painters and landscapers—to prove that a woman's place is on site.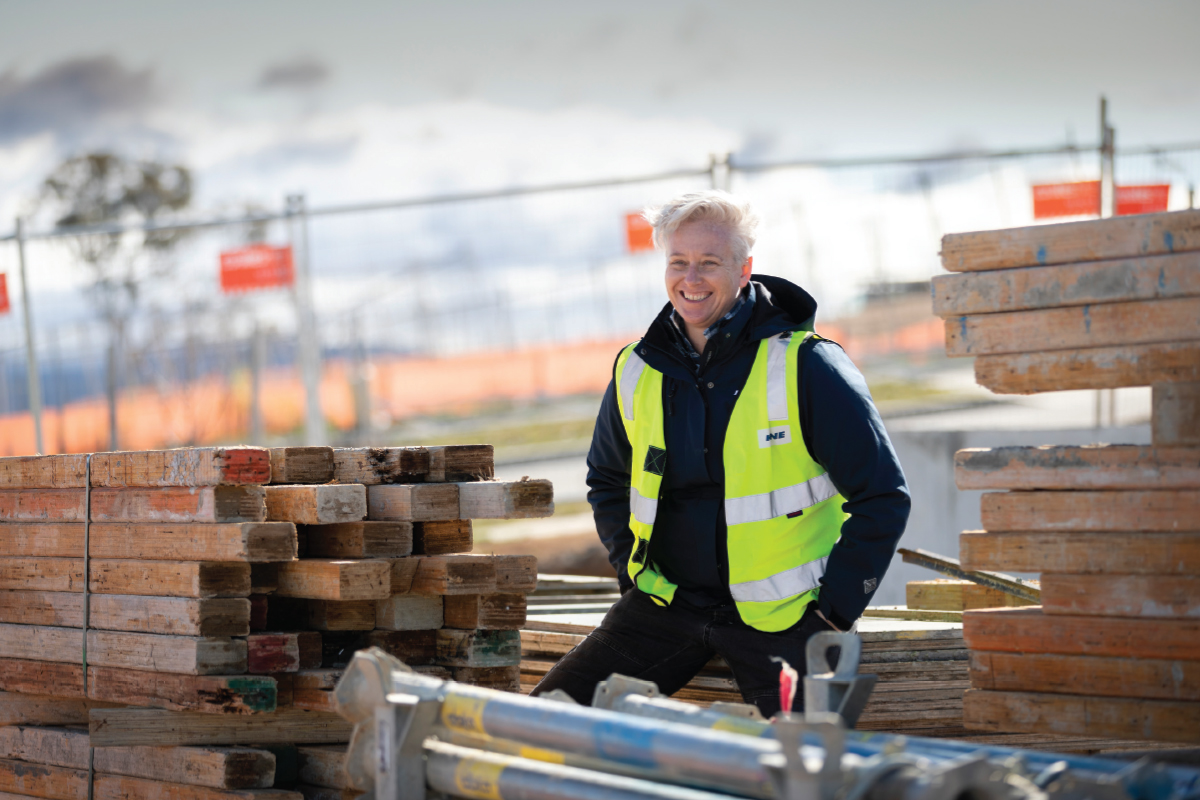 A joint venture between Ginninderry and Master Builders ACT, The Strathnairn Charity House is being conceptualised, designed and built with high-quality donated and low-cost services and
labour.
Once completed, the house will go to auction, with the proceeds split between three worthy organisations within West Belconnen—Pegasus Riding for the Disabled, Karinya House, and Canberra City Care Charnwood—with funds distributed through Hands Across Canberra.
With four bedrooms, three bathrooms and a sleek modern design, the Strathnairn Charity House is expected to fetch upwards of a million dollars at auction—but it won't just raise much-needed funds. It will also break down barriers within the construction industry, as the team behind its design, construction and oversight will be comprised solely of women.
Construction on the Charity House is being spearheaded by KANE Constructions ACT's General Manager
Jo Farrell, whose track record for empowering women in trade roles speaks for itself.
Jo is also the founder of not-forprofit organisation Build Like A Girl, which champions women in trade and encourages young women to consider a trade as a career option. Naturally, Jo was excited by the prospect of a house built entirely by women. "The ACT Women's Action Plan sets a target of achieving increased participation by women in the construction sector…so this project is a great opportunity to shine a light on the impact that women can have in our industry," she says.
"From a design and construction point of view, the project will be led by a female architect and builder, but more importantly, every trade we use will have a female apprentice, and participants on
the Master Builders ACT & Ginninderry's successful SPARK Women in Trades program will also use the project as a live training site."
For Jo, it's all about visibility as the house comes together on-site—because you cannot be what you cannot see.
"We're starting to really recognise how many women are playing a part in [the house's] construction…it's about recognition and making them visible. That's the most important part of this
story," she says.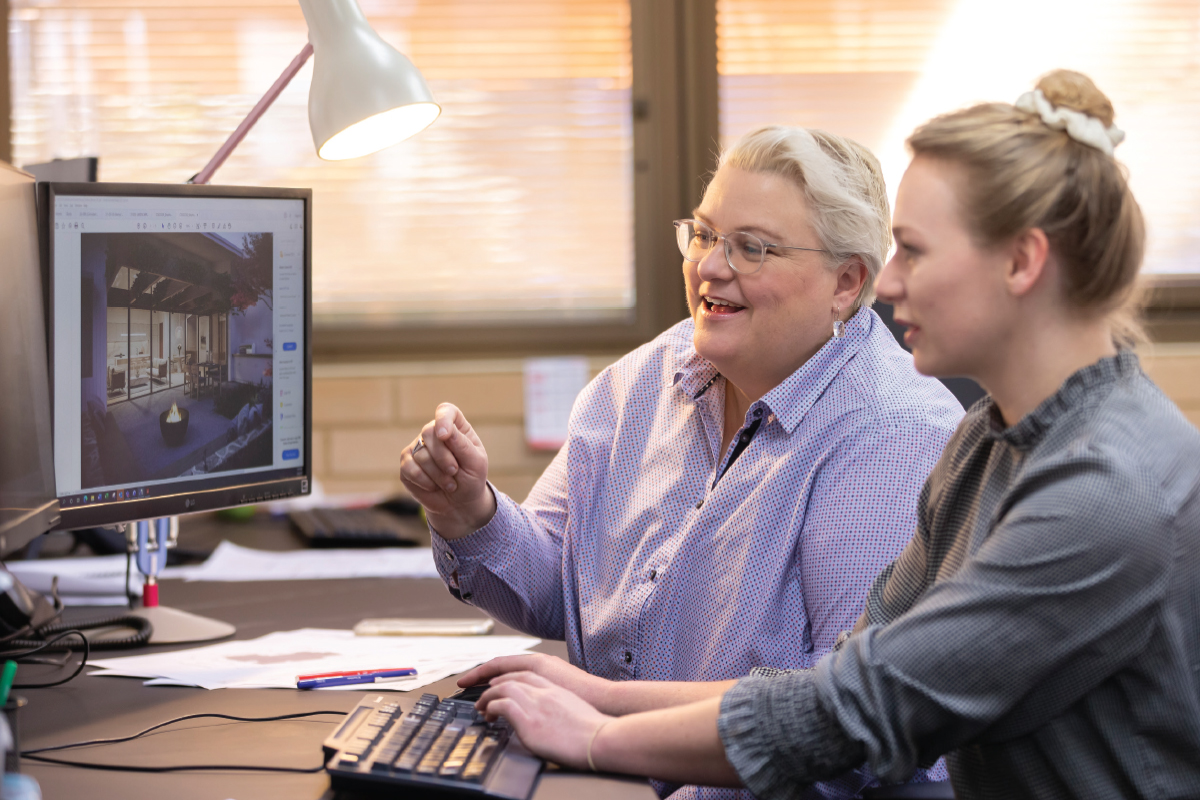 "There's got to be women there showing that it can be done to then allow younger women to say, 'Well if she can do it, I can too'."
Architect Cassandra Keller shares Jo's enthusiasm. Her firm CK Architecture is heavily involved in programs which she says, "enable young women to explore careers in construction they may not
have thought about," so being part of the Strathnairn Charity House team was a natural choice.
"It's a great example of showing young women—and the broader community —what other women can do in the construction industry," says Cassandra. "It makes it real for girls."
Cassandra says the Strathnairn Charity House is as much about inspiring the next generation as it is about celebrating the women in Canberra's construction industry.
"I feel very lucky to be a part of it because I can see what a difference it makes for young women. When I was that age, I would have loved to have seen more of that happening."
One such young woman is 25-yearold Siobhan Nelson. Now a first-year electrical apprentice with Control & Electric, Siobhan came across Ginninderry's pioneering SPARK Construction Program at a jobs fair and quickly realised it was the perfect route to a career that suited her better than she ever expected.
Because of SPARK's involvement with the Strathnairn Charity House, Siobhan has been able to put her mark on the house in not one, but two, ways— helping create the formwork and connecting the site to the grid—and says the atmosphere on-site is electric (no pun intended).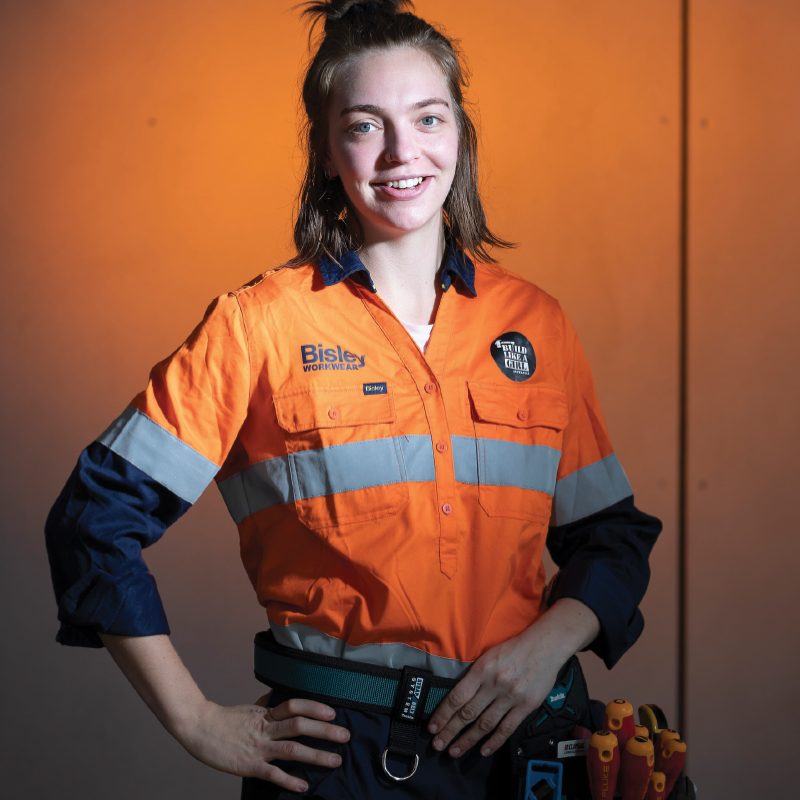 "You could see the inspiration on everyone's faces and how excited they were to be doing something that was going to give back to women and the community," says Siobhan. "Everyone had a big smile on their face. The best word would be 'empowered'."
"I'm so grateful for the opportunity to be involved…you walk away feeling really positive and like you want to give back. In the future I'd love to do more of the same."
However, Jo is also quick to add that women don't need to be young or at the start of their careers to take up a trade.
"Don't listen to the negativity," she says. "Reach out to us or someone else in the industry and get the right information. Construction is genderless—it's not about who you are, it's the attitude you bring to the table that will dictate your success in this industry."
For Siobhan, the Strathnairn Charity House is just the beginning.
"I'm finishing my apprenticeship and once I'm fully qualified, I'd like to stay in the industry and teach," she says. "My long-term goal is to help encourage more women to be involved in a trade."