Inspiring futures: the program helping to get more Women in Trades
It may come as no surprise to hear that women are underrepresented in the construction industry, but when you actually look at the stats, the figures are still quite staggering.
According to a 2020 report by RMIT, women occupied just 17% of the entire construction workforce in 2006. That number dropped to 12% in 2016, and decreased again to 11% in 2020. And when it comes to women employed in trades, the figures are even lower. The RMIT report found that only 1% of the trades and technical positions in the construction industry across Australia were filled by women.
"Looking at those figures, we knew we needed to do something about it. It's just not good enough," says Emma Sckrabei, Head of Community, Training & Employment at Ginninderry.
"In 2019 and 2020, we developed our SPARK Women in Civil Construction program, which addressed key shortage areas in civil construction, which is just one component of construction. But looking at the stats around the technical positions and trades, we knew we had to do more."
So this year, SPARK launched the inaugural Women in Trades program, to increase the visibility of women on construction sites and attract more women to the industry.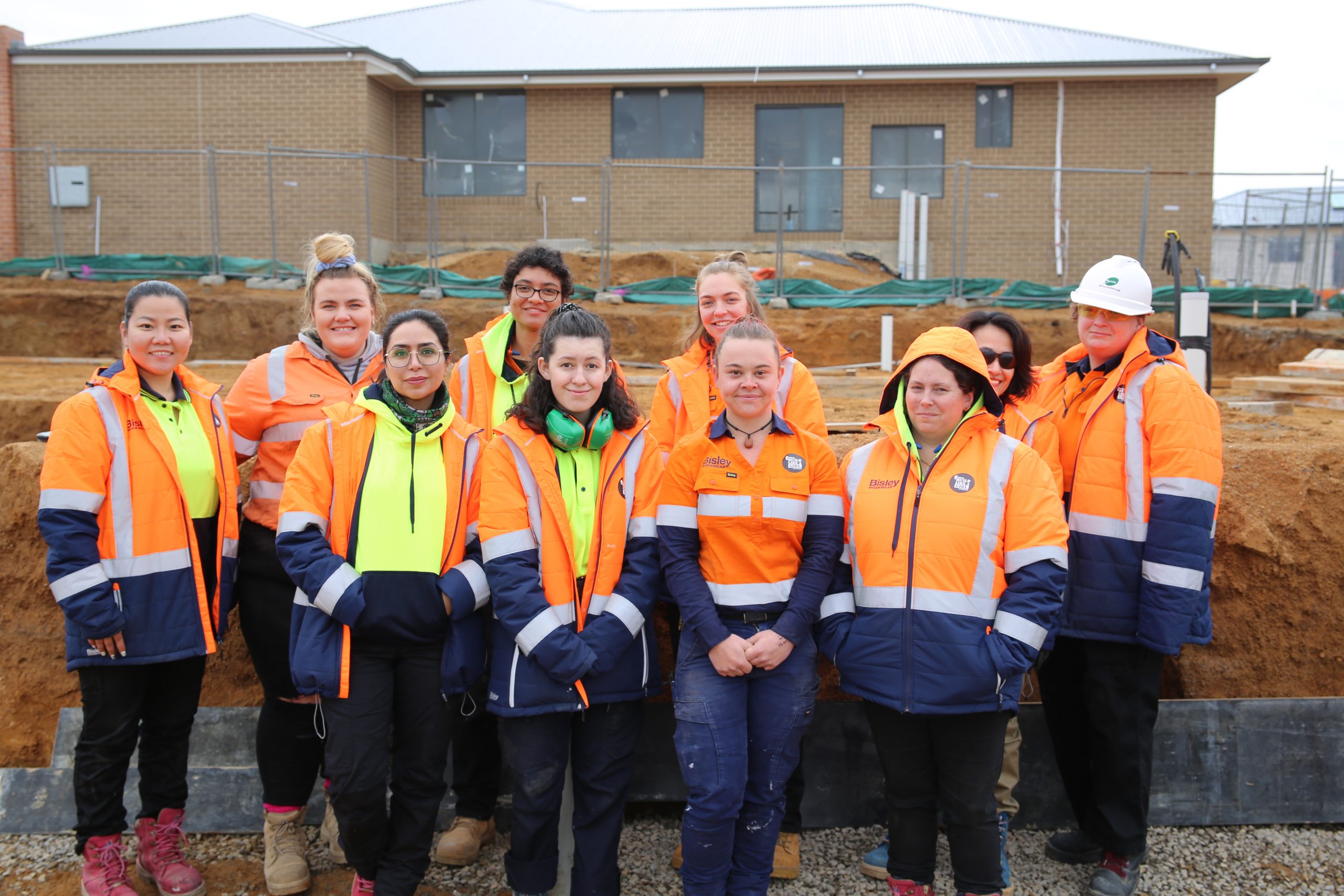 The program was funded by the Australian Government's Job Trainer initiative and Skills Canberra in the ACT, and was delivered as a collaboration between Ginninderry, Master Builders ACT, Build Like A Girl, the Healthy Tradie Project, and the Construction Industry Training Council.
The 10-week program included six weeks of theory-based work, where participants completed a range of competencies relevant to most trades, including white card and asbestos awareness, and manual handling training, plus they had training across bullying and harassment and mental health. That was then followed by four weeks of practical placement.
"Trades are so diverse. There's carpenters, plumbers, electricians, landscaping, concreting, sheet metal working, fabricating, boiler making—there are just so many different areas. So with the program, we included four weeks of industry work placement, where the women got to have a go at the areas they thought they might like," says Emma.
"What was really interesting was right from the beginning, we had women who were saying, for example, 'yes, I definitely want to be a carpenter'. But as their journey went on and they did carpentry, they decided they didn't actually like it, so they got to try something else instead. So we had to juggle placements, because some women changed their minds. But what that meant was they were able to experience what they liked and what they didn't like. And all of them at the end now know what they want to do, which is fantastic."
Siobhan Nelson was one of the 10 participants in the inaugural program. She had been working casually across a number of different industries, and also studied a teaching degree at university for two years, but hadn't found a career path that was the right fit for her. She attended the Canberra Job Fair earlier in the year with the intention of looking into a career in traffic control, but the Women In Trades program caught her eye.
"I was a little bit interested in doing a trade [previously], but I wasn't too sure about job opportunities or whether it was a possibility for a female to be honest," she says.
"But since joining the program and learning more about the industry, I've realised there are many avenues."
During her four-week placement, Siobhan worked with both an electrical and refrigeration company, during which she got hands-on, practical experience.
"The biggest benefit of the program is it gives you the opportunity to see the industry first-hand, and see if you're a good fit. Being able to see two different industries really helped me know that I was an appropriate fit for the practical side and using my skills," she says.
"All the work placement was really practical, and I really enjoyed that. And the companies that they partnered us with were really supportive of having females on the job site. I didn't hear one negative comment. They actually said we're a benefit to the organisation because we're all really meticulous with our work. So it was really supportive to have that sort of environment."
As part of the program, all 10 women were also able to get further on-site experience helping with the Strathnairn Charity House, which is currently under construction.
Since graduating, Siobhan has been speaking to two different companies and plans to start an apprenticeship with one.
The initial program had 10 women join, and the program achieved a 100% success rate, with all 10 women recently graduating. Out of those, six have already been offered permanent roles.
"The Women in Trades Program has been a really interesting journey, and it's been really successful. So we're going to be applying for more funding and hope to run it again next year," says Emma.