A team effort sees Ginninderry pave the way for recycled asphalt in Strathnairn.
The first roads paved with Downer's innovative recycled asphalt product – Reconophalt – were recently unveiled in Strathnairn. The decision to move to recycled asphalt in Stage 2 will see more than 4,200 tonnes paved, helping to divert soft plastics from 3,094,700 plastic bag and packaging equivalents, glass from 617,640 glass bottle equivalents, toner from 75,600 used printer cartridges and 1,050 tonnes of reclaimed road from landfill.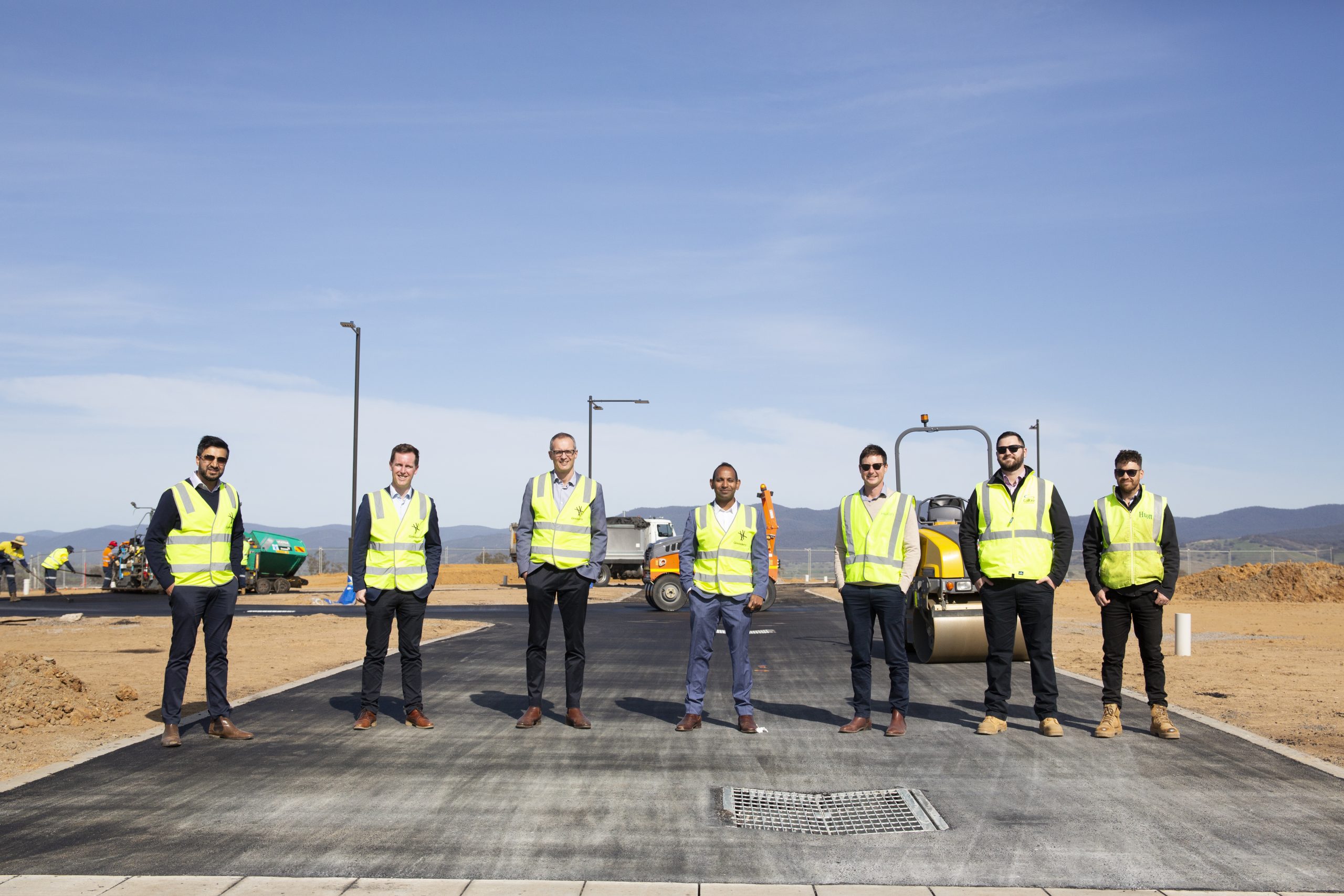 Ginninderry Senior Development Manager, Imran Khan is pleased that the project is leading the way in sustainable civil construction solutions.
"Ginninderry's vision to be a sustainable community of international significance is something that the development team and our partners take very seriously," he said
"From the early stages of planning for Stage 2 works, our team along with Calibre Group and Huon Contractors had identified an opportunity to spearhead the first widespread adoption of recycled asphalt in our region,"
"The Reconophalt product has demonstrated over the last two years that it is stronger and longer-lasting than traditional asphalt so we felt the time was right to embrace the shift."
The Superintendent's representative, Kenny Festing (Calibre Group), together with contractor Huon Contractors, recommended the Reconophalt product and the team worked with Downer to finalise plans for its use across all roads in Stage 2 of the project.
"The Ginninderry vision of implementing genuinely sustainable solutions provided the perfect opportunity for us to trial a new and innovative pavement material. Downer have shown great proactivity in liaising with key stakeholders to obtain all of the relevant approvals; a process with has spanned several years," said Mr Festing.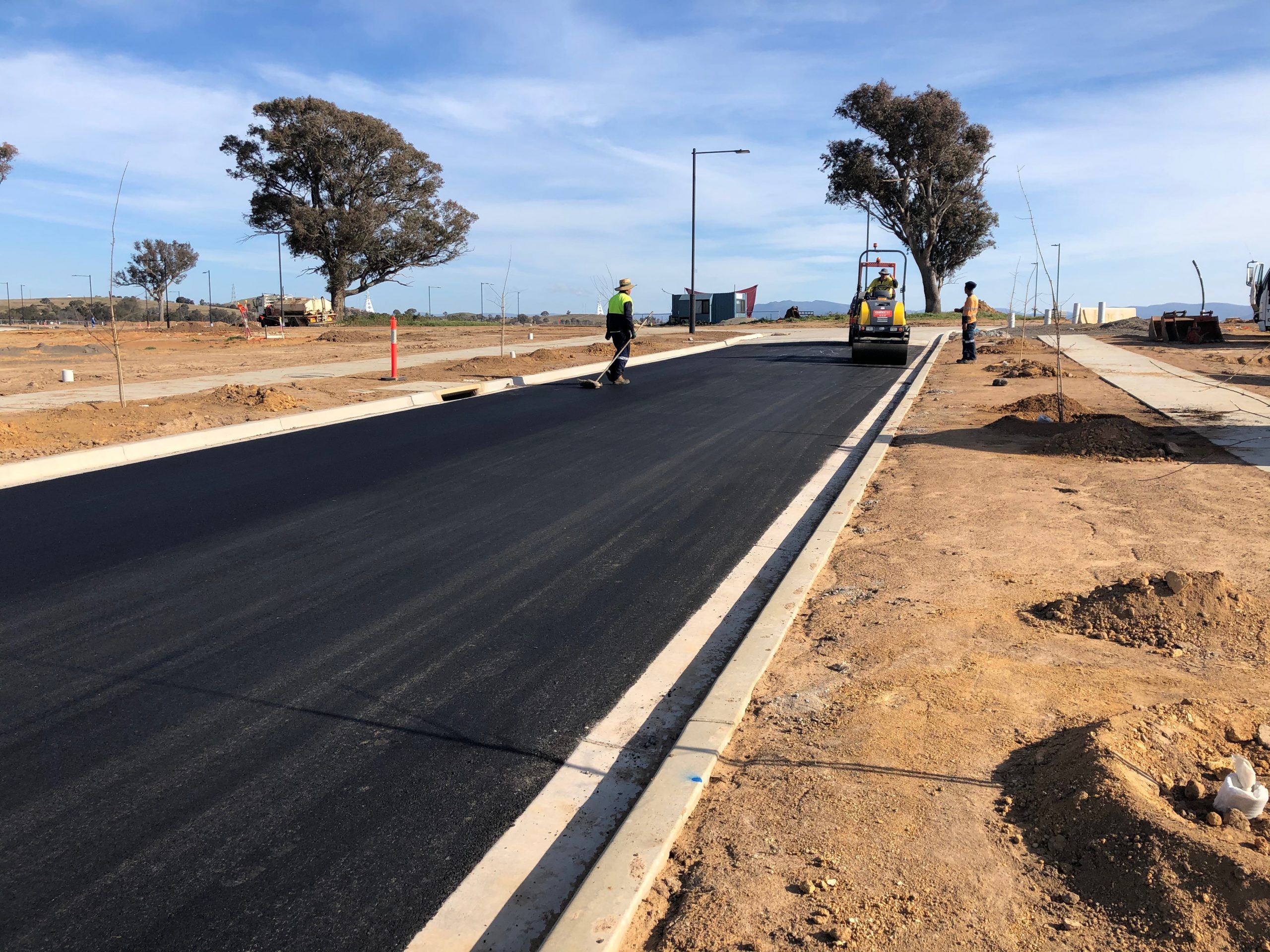 "We are exceptionally proud to have helped drive the largest application of Reconophalt in a residential subdivision in Australia to date".
HUON Project Manager, Gabriel Turner said the move to a recycled asphalt was a great achievement for the project team.
"We've been pleased to be able to deliver a product that is not only beneficial for the environment, but also comes at no additional cost and has an increased design life," he said.
"There has been no downside whatsoever to this product, with the first placement proving to be a success with a quality finish equal to that of standard hot mix asphalt achieved. We are excited to be involved in this trial and hope it is adopted in many other pavements around Australia in the years to come."
Downer's Surfacing Manager – NSW and ACT, Gana Varendran, said that he was pleased to see the leadership and commitment shown by Ginninderry to pave the roads of Strathnairn with Reconophalt, a product that is environmentally safe, sustainable and outperforms standard asphalt.
"Reconophalt is cost effective and has enhanced properties of improved strength and resistance to deformation making the road asset last longer," he said.
"Even after a road has been laid with Reconophalt, the pavement is perpetually recyclable, providing a truly circular and sustainable solution for communities and generations to come"