The Future at Ginninderry: Parkwood ReGeneration Precinct
Part of the vision for the Ginninderry development is to "ReGenerate" the large ex-Government site on Parkwood Road to create a fantastic green open space surrounded by places and spaces for cafes, performances, artisans and cottage industry. This vision will be realised with the creation of the "Parkwood Regeneration Precinct" – a thriving hub that will provide opportunities for individuals to develop commercial, artistic, recreational, educational experiences, community activities, and sustainable businesses.
In the past, parts of the site were used to dispose of various materials including clean soil, demolished buildings and domestic waste.  The site is now being closed, capped and remediated, and this will be completed by the end of 2020.  Not all proposed uses will be compatible with all areas of the site due to previous land use, and so this process is subject to rigorous environmental investigation and safeguards, with oversight by expert auditors and ultimately approved by the Environment Protection Authority.  This will ensure that the site and the area around it is safe, healthy and appropriate for its final uses.
Water and energy generation will be monitored and managed under a long-term management plan for as many years as needed, to ensure that this remains the case.
In the early days of the project a "Concept Plan" for the site was prepared (see below), but it was always recognised that this concept would need to be revised based on subsequent investigations and planning work.  The project team is now developing a more detailed masterplan for the area, and considering many possible uses suggested both internally and through community consultation,  including walking and cycleways (both for recreation and links to the suburban town centre and conservation corridor), an urban farm or children's farm, landscaped wetland areas, play space, a community events and market venue, a sustainable business incubator, recreation spaces, picnic and seating spaces, a stargazer park, and permaculture community gardens.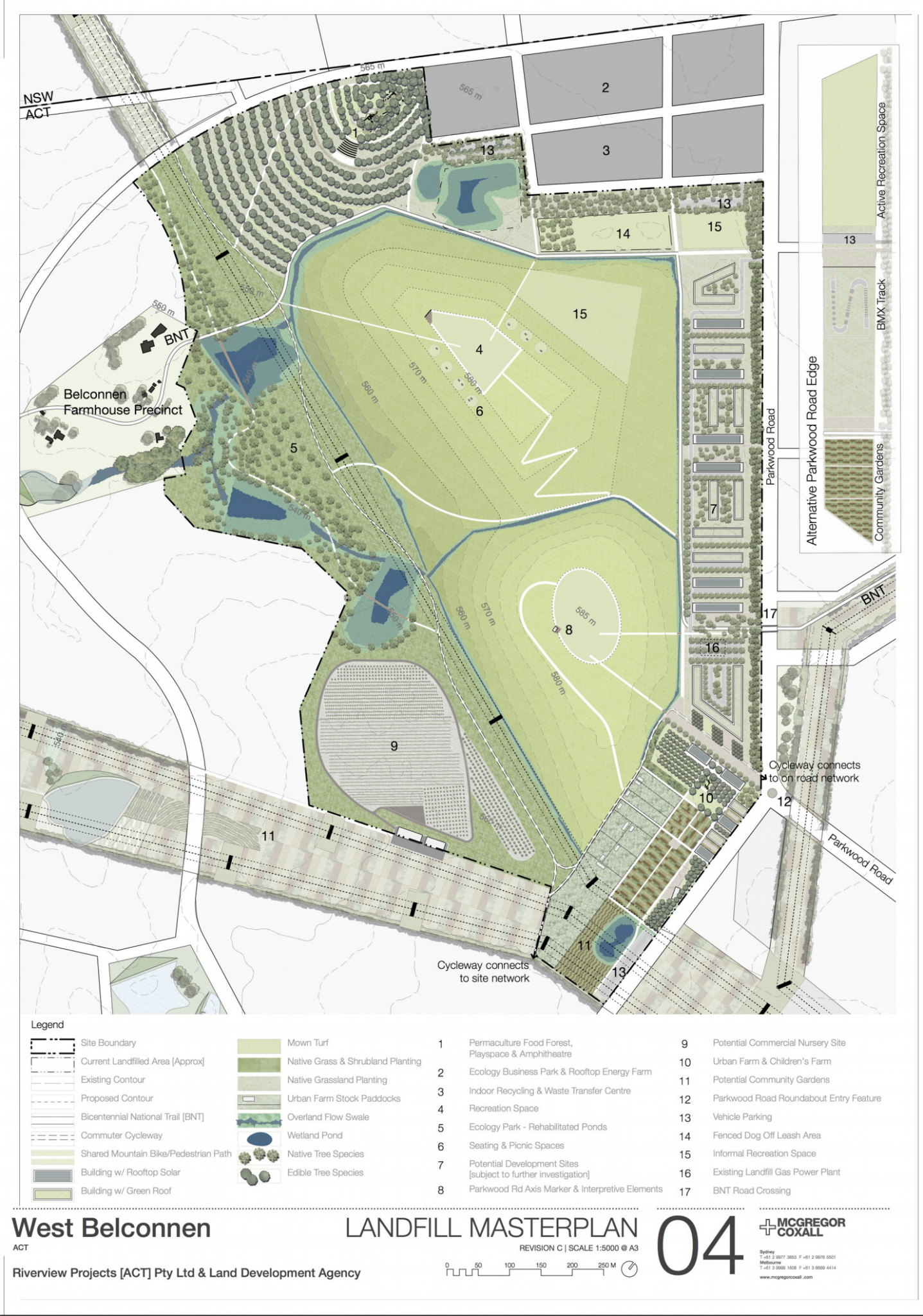 Regardless of which uses are eventually implemented, a rehabilitated site as part of Ginninderry will be a great asset and provide permanent green open space and opportunities for the community and sustainable activities, just as many other similar sites have before.
One of the most significant examples of a similar project in Australia is Sydney Olympic Park. Here 663 hectares of landfill have been rehabilitated and transformed into open spaces, parklands and a thriving events and business precinct.
Another example is the CERES sustainability centre located on the Merri Creek in East Brunswick, Melbourne. CERES is an example of how the efforts of many groups, staff, volunteers and labour market programs can transform a site. Today CERES is a place of nature and beauty, inhabited by a vibrant and diverse community.
Another impressive example of reimagining space for community use is the Collingwood Children's Farm, which offers parents and children, who live in urban environments often without backyards and with minimal exposure to farming and farm animals, the opportunity to learn how to care for animals and nature, all while having fun outdoors.
The goal for Ginninderry's Parkwood ReGeneration Precinct is to transform it into a similar, sustainability focused, green space and artisan hub for the community to enjoy. We are working in consultation with the local community to develop the masterplan for the site and determining how it can best be managed as a long-term asset for everyone. For more information about the site check out a video here.
HAVE YOUR SAY!
If you have any great ideas for things you'd like to see in the Parkwood ReGeneration Precinct, please email us at enquiries@ginninderry.com