Putting Play at the Heart of Place
WORDS

Emma Macdonald
"We don't stop playing because we grow old; we grow old because we stop playing" — George Bernard Shaw
It is well documented that play—at all ages and levels of ability—enables people to reap a multitude of health, wellbeing, social, cultural and economic rewards.
As global best practice in urban design increasingly incorporates play through the creation of experiences and placemaking, governments are stepping up. In Canberra, the ACT Government has even gone so far as to have a Policy Position on Play which seeks to embed best practice in the provision of play spaces in and around the city.
But currently, all eyes are on Ginninderry, where the philosophy of play underpins the very architecture of the development. Here, play has been elevated to such a level of urban importance that as the suburbs roll out, you will barely travel a few hundred metres without stumbling on an area that lends itself to outright fun, recreational pursuits or thoughtful meanderings.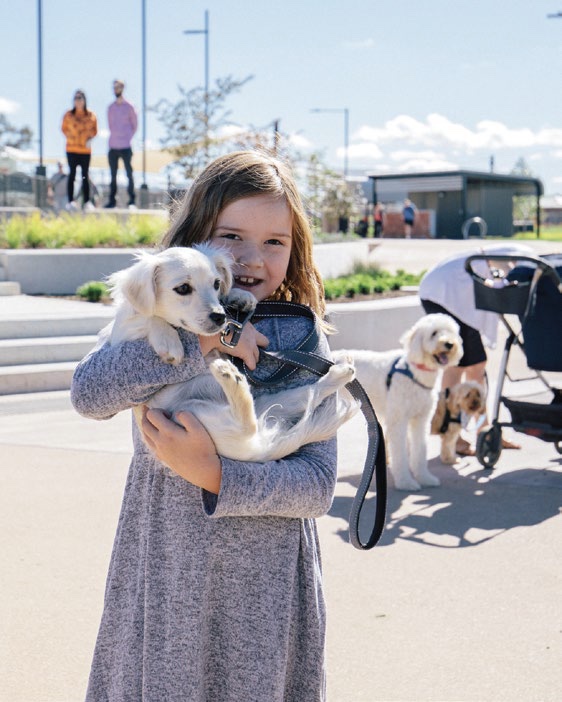 Feeding into the playful nature of the development is a team of academics from The University of Canberra who have partnered with Ginninderry developers and its community through its Play, Creativity and Wellbeing Project.
Over 18 months, the team will focus on building creative play spaces that are co-designed with the community and then tested, with those learnings fed back into future areas. The research will contribute to the Ginninderry Living Lab, allowing for long term research to occur and exploring best practice thinking over time.
Leading the UC's team is an academic who has built play into her intellectual pursuits. Dr Cathy Hope completed her PhD on "alternative cultural practices" and drilled down into what made 1970's experimental radio station Double J so successful. She found that the risk-taking and playful approach of its founders was the perfect combination to shoot the fringe broadcaster into the mainstream.
In many ways, this "breaking the mould" approach applies to Ginninderry. Where Cathy's expertise comes in is through considering how best to engage residents in more playful pursuits, no matter their age, background or ability. Theories of the roles of play spaces in urban environments have undergone several changes since the turn of the 20th century in response to broader societal and environmental trends. The growth of cities, rise in sedentary lifestyles, move to risk aversion and increasing disconnect from nature has come at the expense of play. It is now widely understood this has been to the detriment of healthy childhood development and later adult contentment. Our move to be entertained by a TV or iPad has also now made play a more urgent health priority as our children and adults are increasingly obese.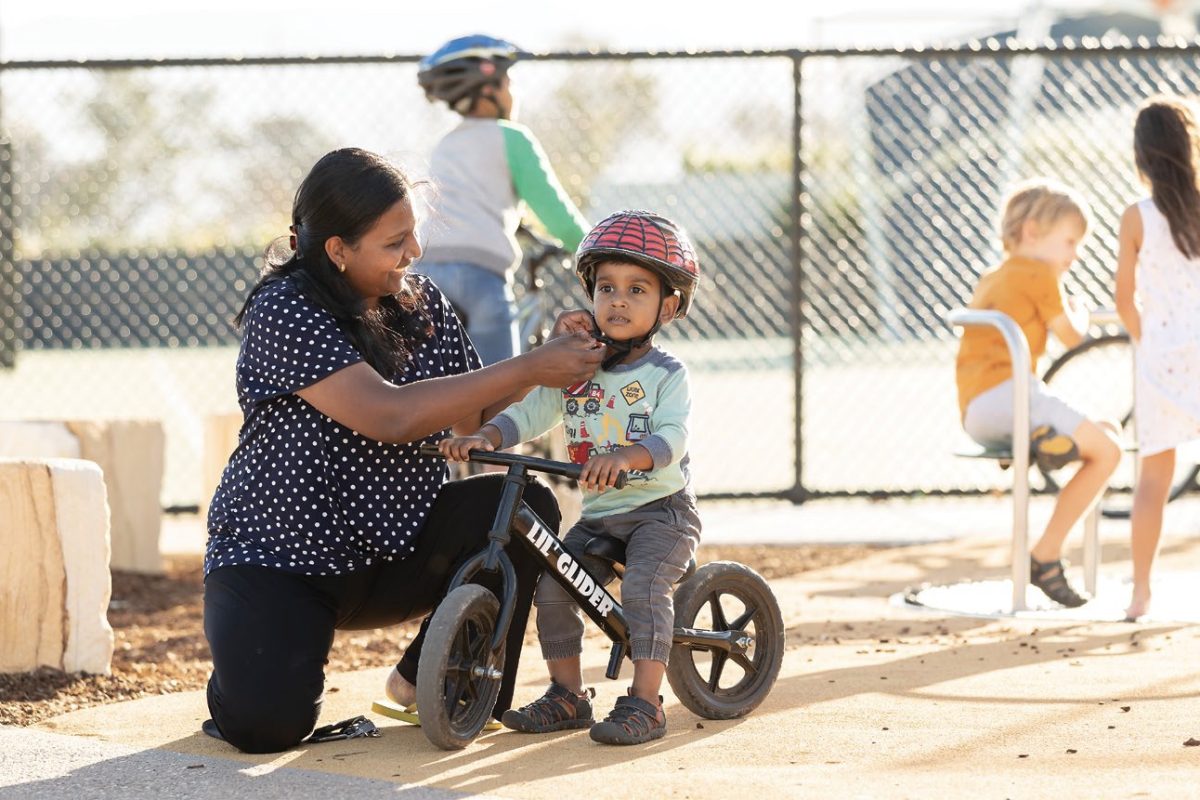 Multiple studies suggest a clear correlation between levels of physical activity and the availability of publicly provided infrastructure such as playgrounds in the immediate vicinity. But it's more nuanced than simply building play equipment on vacant pockets of land.
"We know well from past experience that putting a swing and a slide on a
bit of grass does not make an enticing play area and we have examples around Canberra of playgrounds that are not well used or well loved," Says Cathy.
"With this project we are rethinking what constitutes play and who gets to use it.
For Cathy, play is a physical and mental space to experiment—where the outcome is not important, but the process is.
"Play as a word is often reserved for the young, but I am pushing against that. Play is actually a great word which covers a range of non-obligatory activities that are valuable—for anyone at any age. It is a great space to experiment because the outcome is not important, and you can muck up and make mistakes and the effect is generally benign."
The thing is, kids love to take risk— within manageable levels—and they love to get dirty. We need to find ways to reignite these adventures.
Working closely with Tulitha King, Ginninderry's Community Development Manager, Cathy is examining the first neighbourhood park established at Ginninderry over recent months to observe how it is being used and possible activations to increase use over time.
It is a large and all-encompassing park, including a play space, basketball courts, cricket nets, climbing nets, shade, seating, lighting and toilets.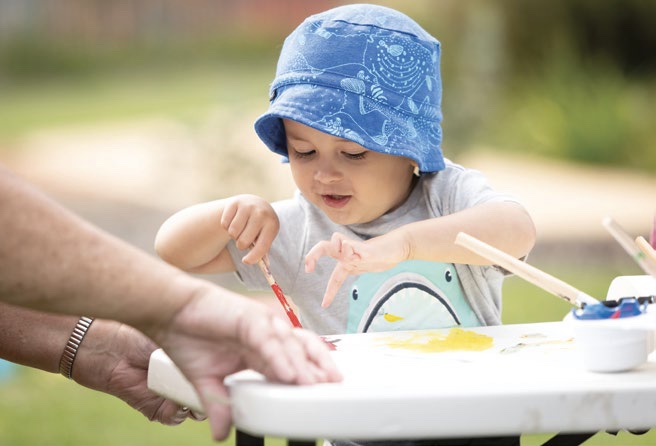 "It is really a work in progress as we look at who is using the space and how, and then we feed that into the roll out of the next play space, and so on."
Cathy is very keen to push the boundaries of traditional park infrastructure, saying the evidence was clear that a lack of risk in play was damaging to children.
"We will work with the community and its children to help create more exciting play journeys, perhaps a maze, areas you can hide, multi-level climbing areas, places to get wet and being bold with design and the range of colours and textures we use."
"The thing is, kids love to take risks— within manageable levels—and they love to get dirty. We need to find ways to reignite these adventures."
The connection to nature is also a crucial part of developing play spaces. This concept sits at the heart of Ginninderry and the role of Ginninderry's Urban Design and Landscape Manager, Matthew Frawley, has been to get the connective tissue between homes and play spaces, green space and nature spaces right.
"The benefit of having a masterplan and this sort of detailed and long-term vision is that we can provide everything residents might want, to foster maximum enjoyment of life's simple pleasures."
Central to the development's design is a 600-hectare conservation corridor that will provide residents with access to the Murrumbidgee River and a multitude of options for play, from walking trails, nature parks, to tracks, obstacle courses and water features.
The other consideration for the development of play areas, Matthew says, is how they can evolve to accommodate the changing demographic of 'players' over time.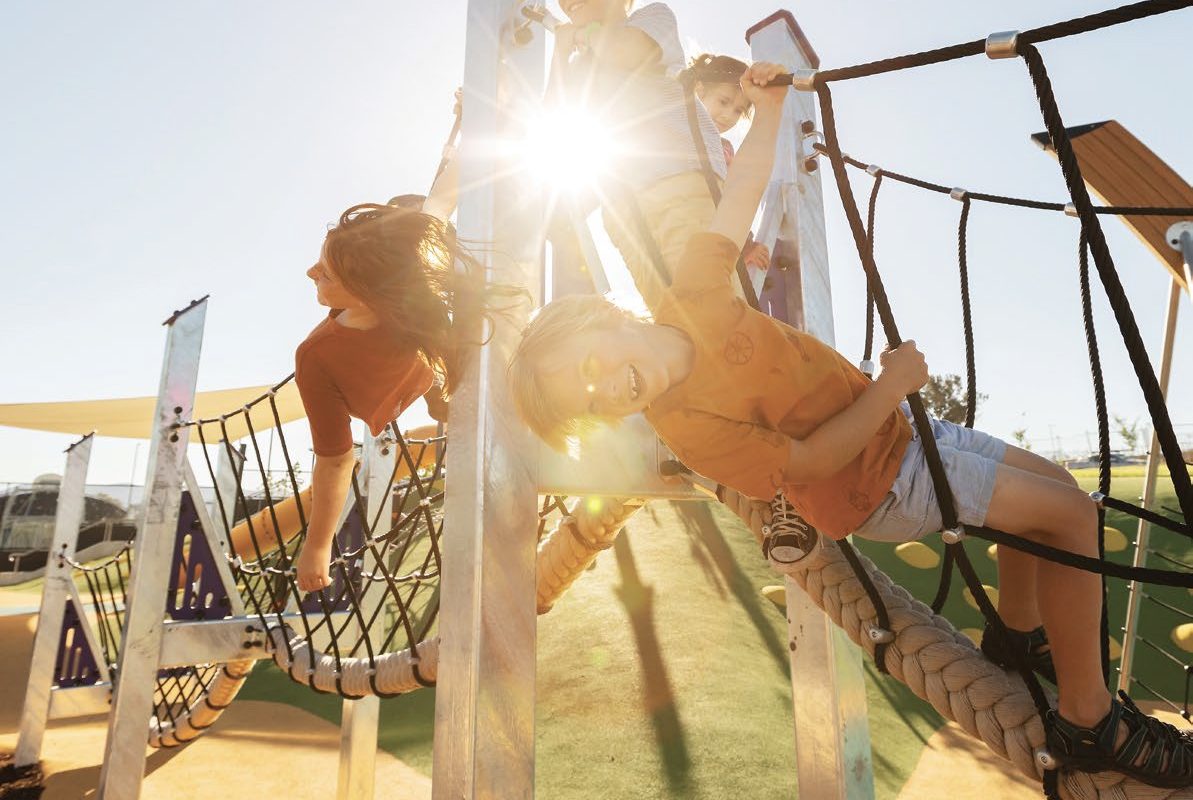 "We want to encourage intergenerational play as well as access for people of all abilities, to keep people engaged with the outdoors and all the health and wellbeing benefits that brings."
We know that play among the young is crucial for healthy brain development, identity formation, socialisation, sharing, creativity and imagination, physical and cognitive capability. But play in adults is equally important. From reducing stress to increasing social connections and stimulating ideas, simply 'clowning around' and focusing on the experience rather than the outcome, is extremely beneficial.
"We are taking a holistic look," says Matthew. "You have families that move in with very young children who are just learning how to play. Cut to ten years and those kids are looking for bike tracks or skate parks. You want the teens to be challenged so they don't get bored. And then we want to encourage intergenerational play as well as access for people of all abilities. So we've created age-friendly play spaces that not only provide opportunities for grandparents or older carers to spend time with 'grandchildren', but to also socialise with other adults, have a laugh and perhaps rediscover the sorts of activities that make them feel young again."