Gift ideas from the Strathnairn Arts Homestead SHOP
Looking for some unique and locally produced gift ideas?
Located in the Strathnairn Arts Homestead, SHOP offers the opportunity to purchase original, quality artworks, gifts and books direct from Members and Studio Holders of Strathnairn Arts, and a selection of inspiring Australian Artists. Featured work includes glass, ceramics, textiles, stone, wood, jewellery, along with selected regional products. All works are original designs and handmade, many are one-off pieces. SHOP is fully staffed by a volunteer team of contributing artists; so say hello to our makers and artisans when you visit!
OPEN 10AM–4PM, WEDNESDAY TO SUNDAY, STRATHNAIRN ARTS HOMESTEAD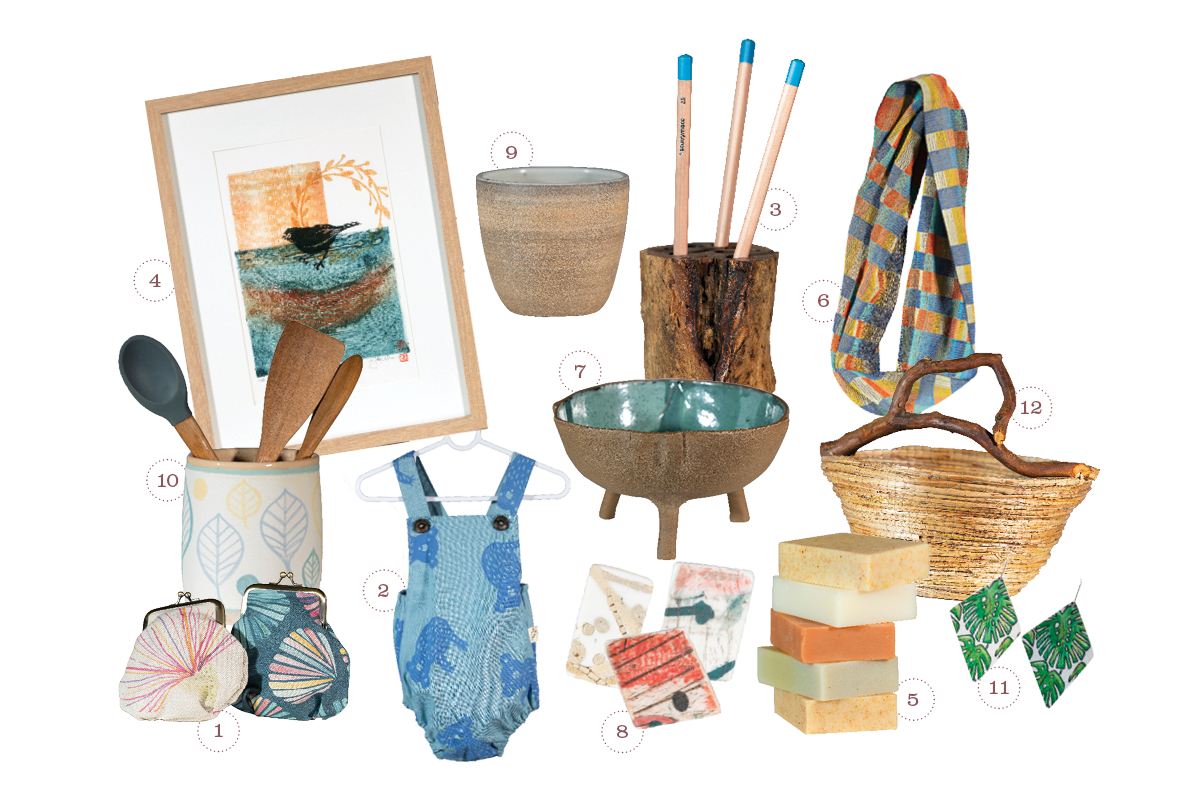 1. CLARE MAZITELLI linen purses with snap close, $45.00
2. BANDICUTE hand printed romper, various designs, sizes newborn to 24 months, $60.00
3. BOY FROM THE BUSH pencil holder, various designs and sizes, $45 – $75
4. JO HOLLIER Bird Montage #1 Limited edition print, $150.00
5. BASE SOAPS ethical body soaps and shampoos using all-natural ingredients, Various
6. BELINDA ROSEE hand woven cowl, Various designs, $85.00
7. LITTLE TREE STUDIO ceramic fruit bowl with three legs, $260.00
8. TRENNA LANGDON ceramic brooches in various designs, $25.00
9. EMINA ADRIAANS ceramic coffee cups, $38.00
10. JULIET CLAPHAM utensil holder gift set, $42.00
11. KATE PIEKUTOWSKI Limited edition hand-printed original earring designs, $55.00 – $58.00
12. JULIA RAYNER handmade coiled jasmine basket, perfect branch handle, $200.00