Meet the Ginninderry Conservation Trust
Meet some of the people entrusted with preserving and promoting the Ginninderry Conservation Corridor
The Ginninderry Conservation Trust is responsible for everything relating to land and conservation management in the Ginninderry Conservation Corridor between the Murrumbidgee River and the suburbs of Strathnairn and Macnamara – from protecting the endangered Pink-tailed Worm-lizard to running community outreach and education programs to protecting the cultural values of the Corridor.
There is plenty to do and huge aspirations to preserve and promote this very special landscape. Let's meet some of the people entrusted with this mission including a number of fun facts about the diverse team.
Jason Cummings, CEO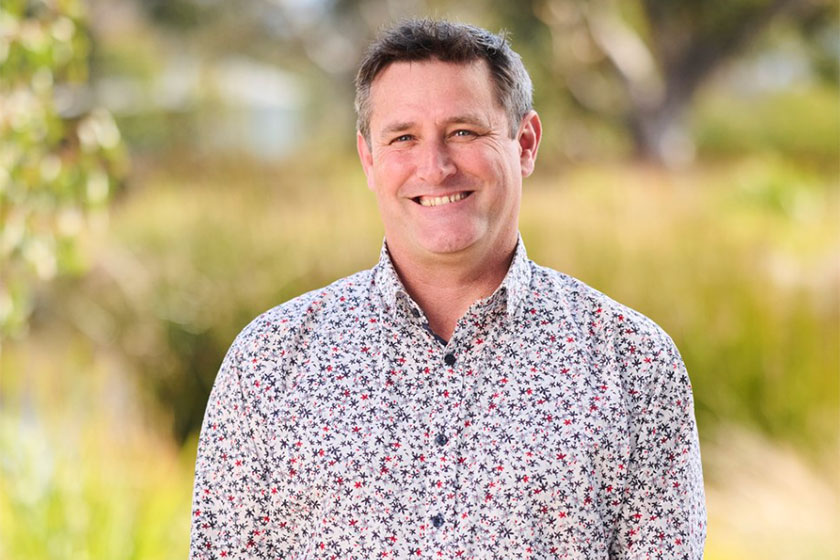 Jason helped establish the Trust back in 2018 and brings a wide range of skills to the task. With a background in business development, wildlife sanctuary establishment, threatened species reintroduction, ecology, financial management and communications skills. Jason is proud to have identified new records of native orchids in the Corridor.
Tyson Powell, Caring for Country Team Leader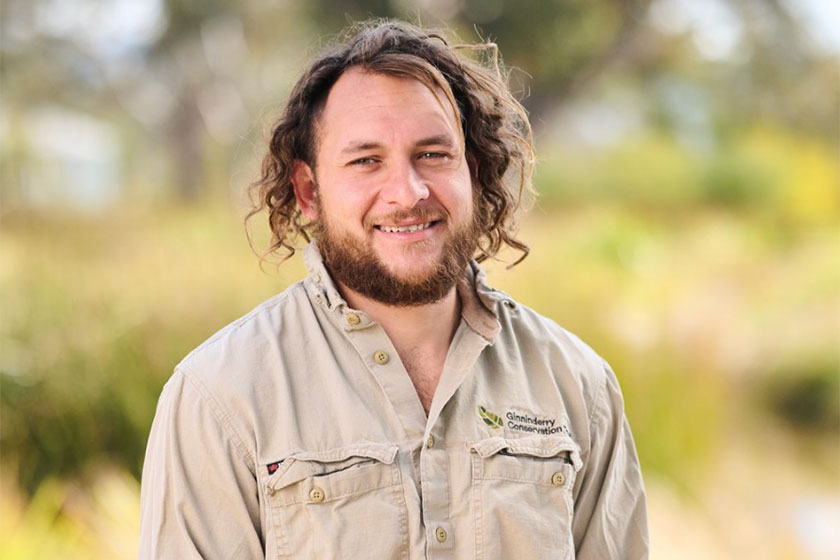 Proud Wiradjuri and Ngunnawal man, Tyson's role includes supporting the Caring for Country Rangers as custodians of the land and the Murrumbidgee River in the Corridor. He plays an education and engagement role with the wider community by talking about the land and his cultural connection to it. If Tyson looks a little familiar that's because he has been on Home and Away and the ABC's political thriller series Total Control.
Ange Calliess, Program Director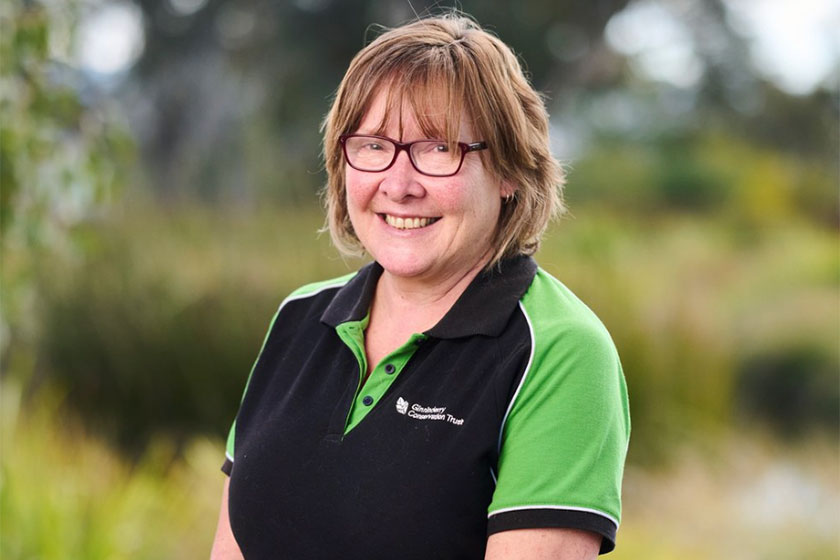 Ange supports the team to deliver their work in a safe and diverse working environment and develop new and innovative ways of managing the land the Trust has under its custodianship. When not at work, Ange finds herself on the brink of housing a menagerie comprising two chooks, three guinea pigs and Syd the dog.
Ariana Strmota, Project Officer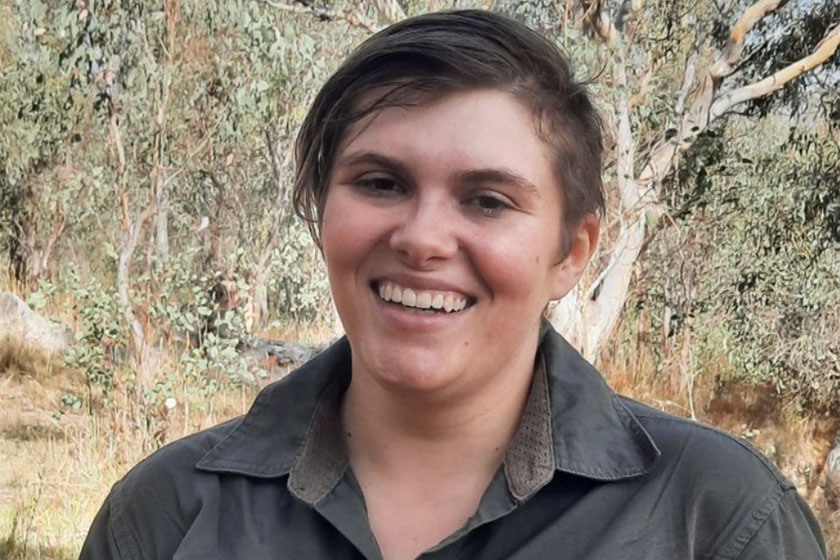 Ariana loves the opportunity to engage and educate the community, especially children, on the wonders of the Corridor and the importance of conservation. She is a trained educator and carries out this role with confidence and a certain star quality, due in part to her talents as a singer. Life may have taken a different path had Ariana followed through with her plans to record a planned album. Instead, she chose the Trust.
Bridie Noble, Riparian Restoration and Education Officer 
Bridie's work includes monitoring the water quality and habitat of waterways and dams throughout the Conservation Corridor. She engages volunteers to assist with dam restoration projects and raises awareness about the value of maintaining healthy waterways. All of the streams in the Corridor flow into the Murrumbidgee River, home to many threatened native fish species. Last year Bridie competed in the nationals for dragon boating, a sport that she took up after moving to Canberra.
Violet Marriott, Rehabilitation and Reporting Officer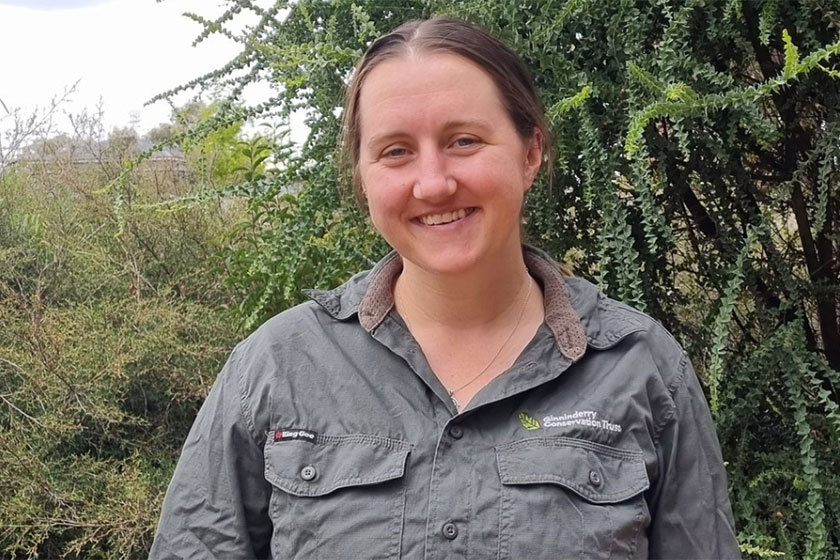 It is Violet's job to ensure quarterly and annual reporting requirements are met and conservation and land management programs are implemented. A big part of the job is organising monitoring programs and events in the Corridor. Violet has plenty of experience working with people and large groups, having worked as a summer camp guide in America where she was a qualified lifeguard and helped teach kids to water ski.
Rachel Eland, Rehabilitation and Reporting Officer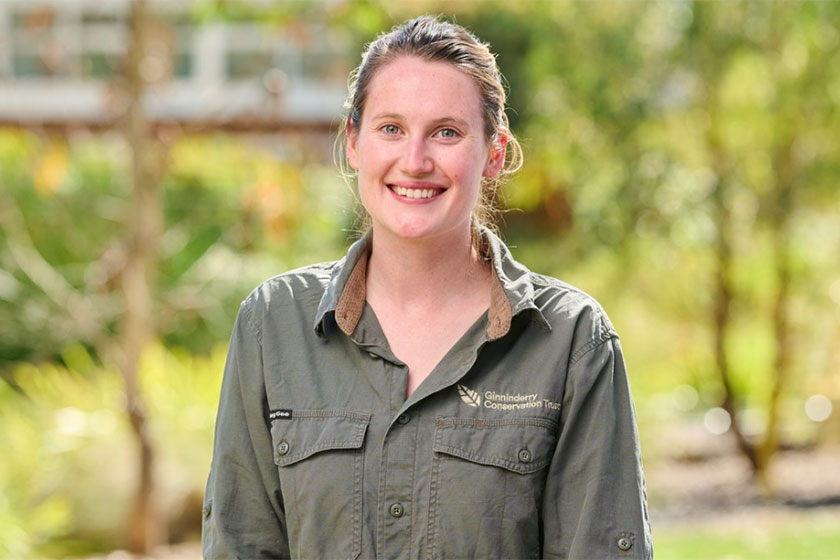 Responsible for habitat restoration programs including those aimed at saving the Pink-tailed Worm-lizards, Natural Temperate Grasslands and Box Gum Woodlands. Rachel's role also includes responsibility for completing annual Commonwealth and ACT government reporting requirements. She grew up experiencing life in some amazing nature reserves and sanctuaries in Durban, South Africa, which instilled in her a love for conservation.
Kye Moggridge, Caring for Country Ranger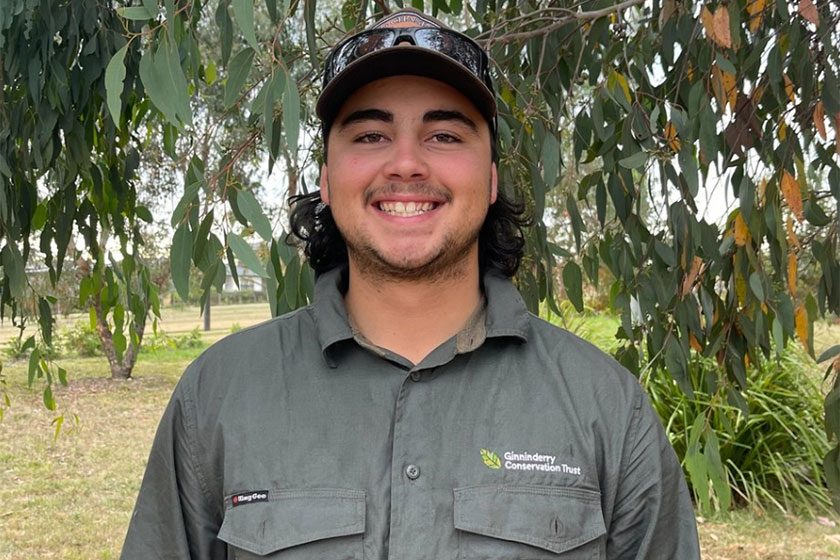 Kye joined the Ginninderry team in November 2022 as an Aboriginal ranger trainee. As a proud Kamilaroi man living on Ngunnawal Country, he has a deep connection to his culture and respects the Country where he works. Kye also has training in venomous snake and reptile handling for his other role working with ACT Snake Removals.
Leigh Woodward, Caring for Country Ranger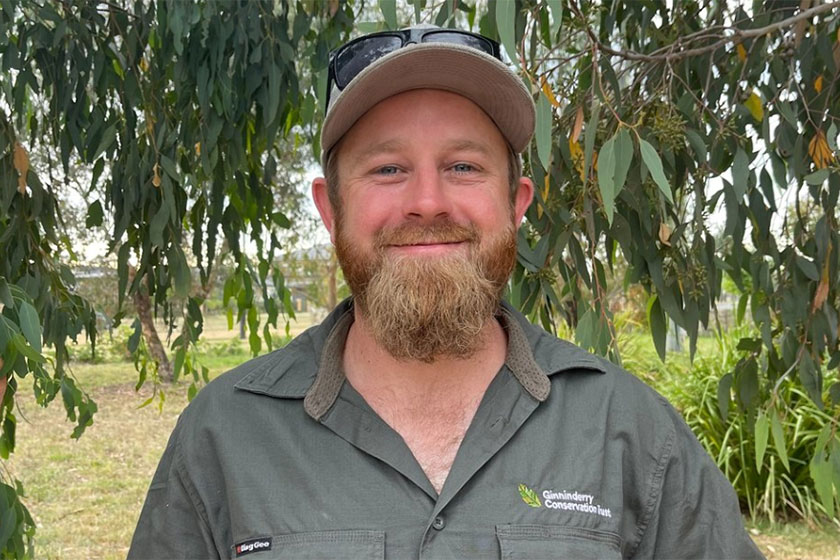 Leigh joined the team in late 2022 after spending more than 15 years working in the horticulture industry. His first interaction with the Trust was through his participation in the SPARK Conservation and Horticulture program. Leigh is very passionate about the environment which makes him perfect for his role which includes managing the land and waterways in the Corridor. Like Kye, Leigh is also a proud Kamilaroi man, born and raised on Ngunnawal Country with strong family ties to north-west NSW.
Natalie Band, Graphic Designer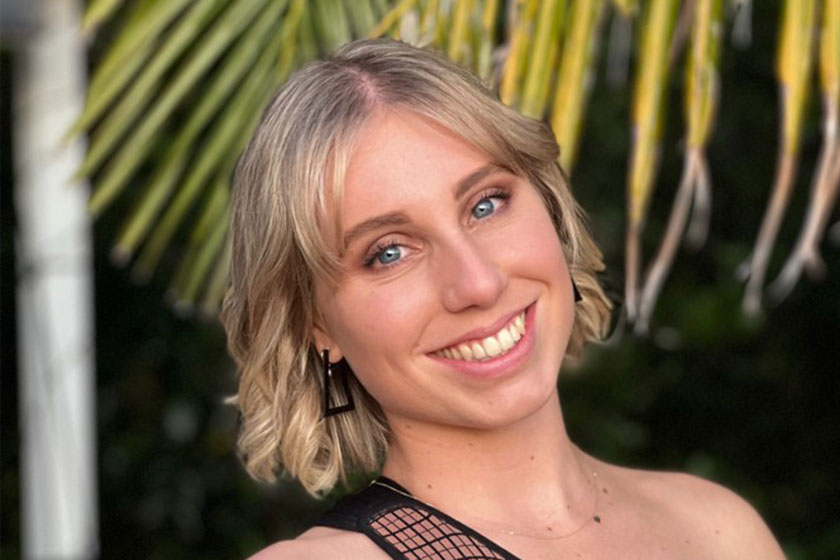 While fairly new to the team, Natalie is in charge of developing signage and interpretive information to help visitors engage with the landscape and its historical and cultural significance. She's got a keen eye for detail, as well as a keen ear for languages—she speaks Japanese and is looking forward to some more travel in Japan.
Weekend Ranger Team
Responsible for visitor engagement on walking tracks, track audits, litter patrol and weed management, our weekend rangers each come with their own diverse backgrounds and passions.
Shama Sharma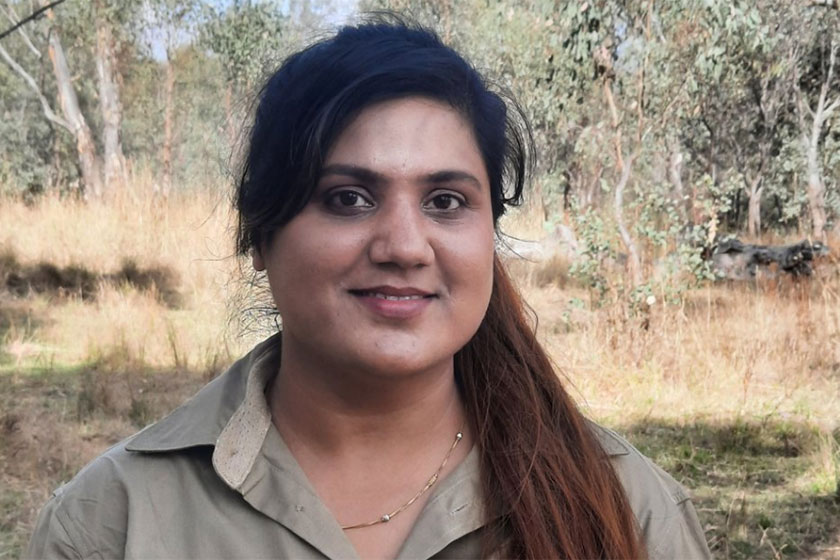 For someone who loves nature and being outdoors, a job as a weekend ranger in Ginninderry's Conservation Corridor is a perfect fit. Shama is always happy to talk to visitors about how their experience in the Conservation Corridor has been. When she gets a spare evening, Shama is not averse to the odd night in front of Netflix.
Saru Shrestha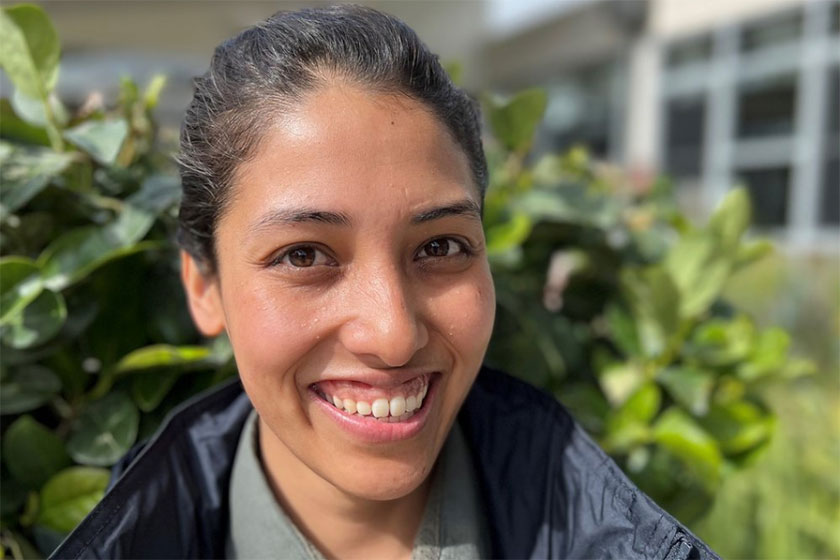 Saru is a passionate adventure seeker from Nepal, currently pursuing her Masters in IT at the University of Canberra. When she's not nurturing her passion for technology and its limitless possibilities, Saru finds joy in getting lost in nature and peaceful environments. As a ranger with the Trust, she enjoys educating and informing visitors about safe hiking practices, conservation efforts and their responsibilities towards the environment. Beyond her love for outdoor exploration, Saru's passion extends to the world of arts, particularly in music and photography.
Kieran Webbie
Armed with an Environmental Science degree, Kieran lives and breathes time in nature reserves, hiking or camping – as long as that doesn't interfere with his support of the Canberra Raiders. Kieran is only too happy to share his knowledge with people he meets on the walking track and encourages people to take advantage of the guided tour days. When he is not out walking, you may find Kieran driving buses for Transport Canberra – and he is always up for a chat.
Dimple Dhaliwal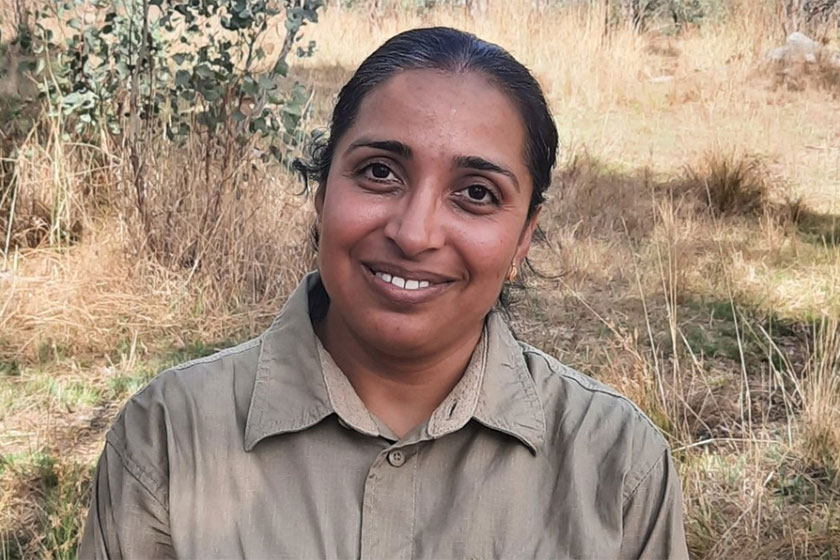 Born and raised in India, and with tertiary qualifications in Commerce and Business Administration, Dimple moved to Canberra in 2021 where she is raising her family. Dimple may have a head for business, but her heart is in nature and she is passionate about all aspects of the Ginninderry Conservation Corridor, believing the best way to connect with nature is to be out in it. When she is not walking the tracks, Dimple may well be found in the kitchen, creating a magnificent meal for her husband and daughters.
Alex Nguyen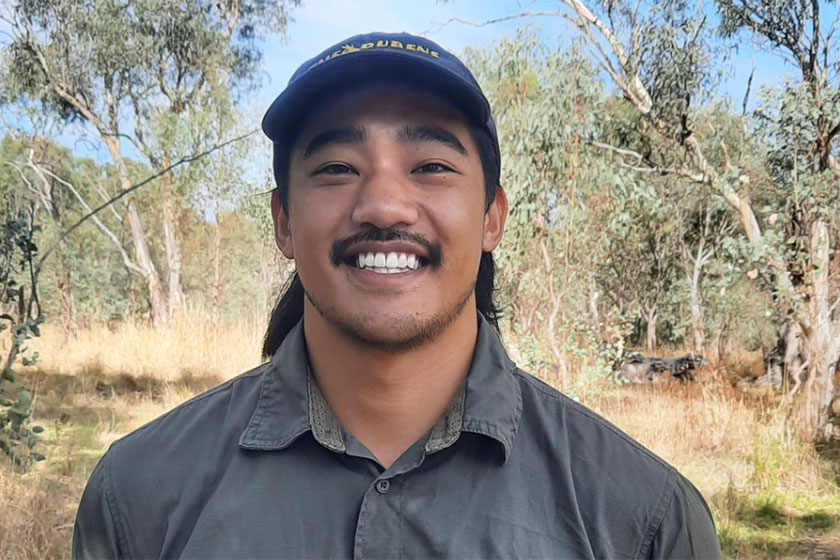 Alex is more than happy to provide information on the unique beauty of the Corridor and the local flora and fauna that can be found there. When it comes to fauna, however, no one comes close to Alex's dog, who is his best friend.
Joe Johnstone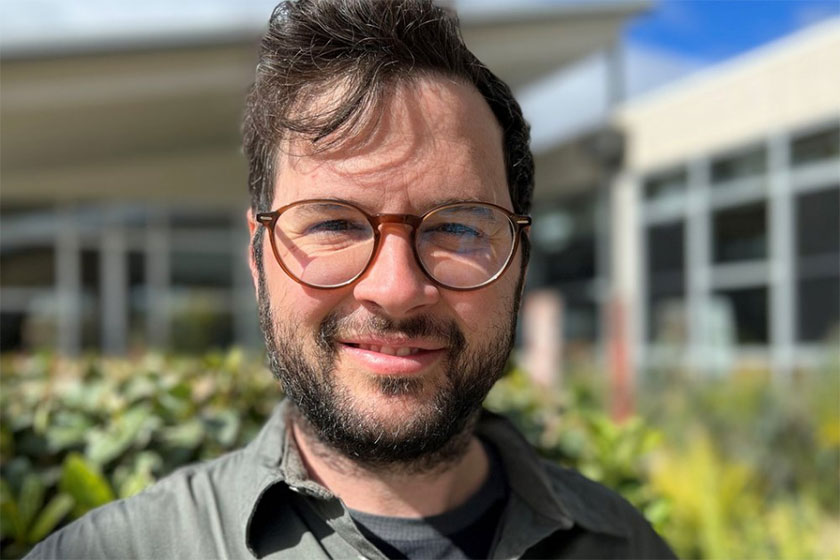 Joe provides a friendly and helpful presence on the Conservation Corridor walking track, always happy to share his knowledge with visitors. Joe is passionate about conservation and enjoys being out in nature. Joe is also a keen photographer and he can point you in the direction of the most magnificent flowers if you too want the perfect shot.