Incorporating Active Travel principles into Ginninderry
Active travel is any mode of travel that involves physical activity and is an effective way to incorporate exercise into your daily life. Active travel is a way of getting around that's better for the environment, better for you, and safer for everyone. It means getting out of the car and onto a bike – or your feet. Promoting active travel is done by providing infrastructure and influencing design to ensure that our neighbourhoods and road systems are walkable and cyclist-friendly. But it's about more than just the surface level things – building footpaths and bike lanes is important, but that alone isn't enough to promote active travel. That comes from a fundamental design philosophy which has to be built into a community's planning from day one.
Amsterdam is considered one of the active travel capitals of the world, where nearly 60% of all travel is done by bicycle, and less than 25% by car. They've achieved this by carefully and systematically planning and retrofitting the city with bikes in mind since 1970. While Canberra has the highest rate of people walking or cycling to work of any capital city in Australia, this still only equates to 8% of the population. Here at Ginninderry, we're taking some tips from Amsterdam's example, and doing all we can to help Canberra increase that number by designing our community from the ground up to promote active travel.
In a first for new suburbs in the ACT, the main road of Ginninderry will have dedicated off-road commuter paths. Not bike lanes, where there's just an extra line painted on the road to show where bikes go. On either side of the road will be a one-way bike path, separated from the road by a colonnade of street trees. There'll also be a standard shared footpath for pedestrians separate from this commuter path further in from the street. This allows a true separation of high and low speed environments – making it safer for cyclists and pedestrians.
The footpath and designated bike path have also been designed to provide safe and easy crossing at road intersections. Typically footpaths drop to road level using pram ramps. We have designed these out along the main boulevard road of Ginninderry – allowing cyclists to cross the road at grade, creating a smoother ride. Cyclists and pedestrians also get priority at any signalised intersections with traffic lights coordinated to accommodate your crossing instead of making you wait for all the cars.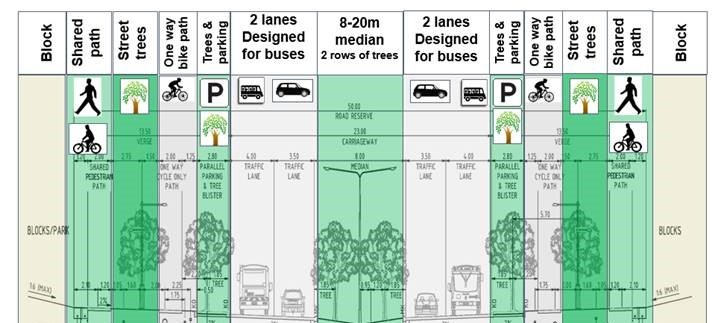 Giving commuter bicycles a designated path makes travel safer for everyone. In typical developments, cyclists have to either ride on the footpath and take extra care not to run into pedestrians, or ride on the road where – even with a bike lane – they run the risk of a potentially fatal collision with a car. And with bike lanes running in front of on-street parking there's also always a risk of being car-doored by exiting drivers. By creating separated commuter bike lanes which run behind the parking, this won't happen. The main boulevard has also been designed so that no driveways face the main road – homes along the boulevard have their driveways coming from a laneway at the back. This ensures that there is no danger of cars driving into or pulling out across the bike and footpaths either. By giving cyclists a designated path, we believe travel will be safer for pedestrians, cyclists and drivers alike.
The speed limits on Ginninderry's roads have also been targeted for safety. Ginninderry's main boulevard, the central road that will run through and connect the whole community, is set at 60km/h. It is proposed that smaller suburban roads will run at 40km/h. There are even some pedestrian/driver shared zones around park areas (such as around our Green Link) with speed limits of 20km/h where we know there will be high numbers of people crossing, mingling and moving.
Safety is the most important thing of course, but it's only step one for promoting active travel. Step two is the layout. Ginninderry's main boulevard take a route so that, from anywhere in Ginninderry, it's easily reachable. Every household in within at most 400m of it. Once there, that road is the thoroughfare that connects Ginninderry together, and following it you'll be able to reach all the major community centres and amenities like The Link, the Neighbourhood Park, the retail centre, all the schools, and the Parkwood ReGeneration Precinct, all of which will have bike racks installed to keep your bike safe when you arrive. The Link has also been added to Transport Canberra's Bike Stop scheme – providing end of trip facilities such as toilets, shower, water refilling facilities and a change room – providing cyclists a place to stop, rest and enjoy.
The boulevard will also connect you into other parts of Belconnen by linking into the main entry roads of Ginninderry, like Drake-Brockman Drive, which will also be upgraded to include bike paths. This accessibility of central places provides an ease to active travel options that is often lost when important places aren't on easily ridable roads. Linking our walkable and ridable boulevard into wider Belconnen makes longer journeys in something other than a car a possibility.
For journeys further than Belconnen you still don't need a car. Every household in Ginninderry will be within easy walking distance of a bus stop, so walk or ride to one of them and take the bus wherever you need to go. Public transport options will be provided from the first day that residents move in – with a shuttle bus service planned to Kingsford Smith School and Kippax Shopping Centre with easy connection to the Blue Rapid and all other Action Bus services.
Topping it all off, with the abundance of native conservation area within Ginninderry, a series of tracks and trails are to be provided to allow people to get out into the beautiful bush land.
But what if you don't have a bike? If walking's too slow for you, we are hoping to have shared bikes available for residents in the future as well.
Pedal Power ACT volunteers welcomed the opportunity to view the plans at the developer's request, and noted the progressive design: "The plans presented to Pedal Power ACT by the Ginninderry proponents are very encouraging. The lengths to which the proponents have gone to ensure the new community has access to active travel and healthy living is very welcome."
With so much coming to Ginninderry, get ready to get active!