New Year's Reflections and Resolutions – Jessica Stewart
2017 was a busy year for Ginninderry's Sustainability Manager, Jessica Stewart – particularly on the education front! Over the course of the last 12 months, Jess attended a number of national forums where she met with like-minded experts to share ideas and present the vision and approach to sustainability at Ginninderry.
But what's surprised her the most during this time is the public's response to this, saying "One of the things I didn't predict was the positive interest in the project and associated demand for education around how we're working to develop a sustainable community at Ginninderry. It's been really exciting and interesting to appreciate just how special Ginninderry is, and that people actually want to hear and learn more about what it means to be a 6 star Green Star community."
While 2017 was filled with many highlights, the standout for Jess was the opening of the multipurpose community  and information centre, The Link. This building, located in our first suburb of Strathnairn, is a shining example of Ginninderry's vision for sustainability. It has been designed to reduce water and energy use, and has been built out of responsibly sourced materials, compliments it's landscape and showcases a state of the art renewable energy system and rainwater tanks. Read more about its sustainability features here.
Over the course of the year Jess was also recognised for her work, vision and innovation, in the form of two industry awards: the National Association of Women in Construction's ACT Emerging Leader Award and the Property Council of Australia's ACT Future Leader Award.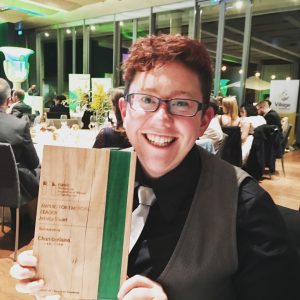 As for what is to come in 2018, Jess' year is already shaping up to be an exciting one, with several projects in the pipeline including the conversion of an ex-military troop carrier to run as an electric vehicle for use in Ginninderry site tours. Look out for an announcement in mid-2018!
She has also begun working alongside tbe Cooperative Research Centre for Low-Carbon Living, Curtin University, Josh Byrne & Associates and CSIRO to explore Zero Energy Homes — taking a standard project home and transforming it into a home with no energy bills.  Together with partner builder, Rawson Homes and Josh Byrne from Josh 's House,  Ginninderry will showcase this concept in our future display village.  You can now follow the builder's journey by checking out the first of a four-part video series below.
Jess hopes to also establish the Ginninderry Living Lab , which will set out how the project approaches research over the next 40 years.
"We have an incredible opportunity to learn, test and deliver best practice thinking over the next 40 years. The Ginninderry Living Lab  will form the framework for research to happen over this time. You don't get many opportunities  to research human and environmental behaviour over such a long period of time period."
2018 is sure to be another year where sustainability takes centre stage at Ginninderry.  As for Jess? She simply "can't wait!" to continue educating and bringing the project's ideas and  initiatives to life.