Locals flock to 'Meet the Builders of Ginninderry'
Cupcakes, advice on available house and land packages and designs were a-plenty at Ginninderry's Builders' Information Night, where prospective buyers took advantage of the unique opportunity to seek advice and input from Ginninderry's builders on their range of housing designs and available house and land packages.
Consensus amongst representatives from Ideal Building Solutions, Rojas Constructions, McDonald Jones, Sienna Homes, Achieve Homes, SM Precision Building, Bode by Ram Constructions, APA Homes and Rawson Homes reported strong interest from the community regarding price and their individual house and land offerings.
Ben James from Rojas Constructions said "we've spoken to quite a few first home buyers tonight who are hoping to make Ginninderry their home. There was a lot of interest in our three bedroom ensuite, double garage package, which on a 350sqm block starts from $550,000."
Ben Silk from Rawson Homes said "we had great interest from a range of people including first home buyers through to downsizers already living in the area. We have a large range of house designs with top level inclusions available, and are really looking forward to working with buyers to meet their lifestyle needs. Ginninderry is really going to be a place for everyone!"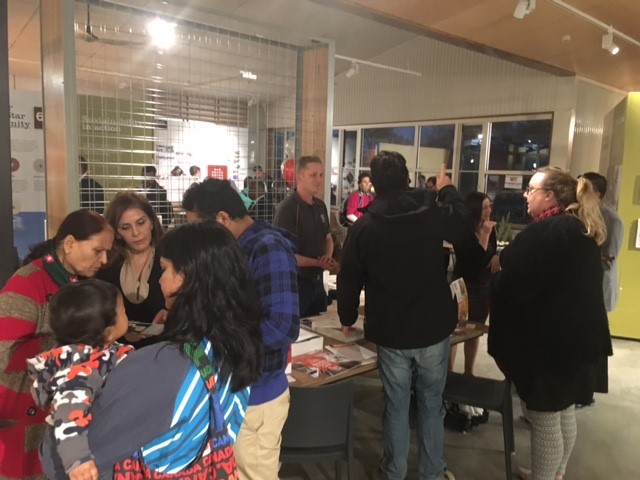 Meanwhile, Michelle from Ideal Building Solution Pty Limited reported that "people seemed really enthusiastic about the project and are embracing the sustainability features. From what we saw tonight there is a real mix of people and needs, with many already living in the Belconnen area who were interested in a mix of designs, but particularly our two-storey designs for the smaller lots."
A popular theme to emerge from the evening was sentiment over Ginninderry's location and sustainability efforts, with Xavier Player from McDonald Jones mentioning that quite a few locals commented on the development's easy proximity to Belconnen and theirexcitement over what is planned from an environmental perspective for the future.
Ginninderry Design Manager Hoa Luu said it was "great to see our prospective buyers so keen to speak to our display village builders, and learn more about what home package solutions they have available. Overall it was an excellent opportunity for successful buyers from our first release, to see the kinds of homes available to suit their block."
Another Meet the Builders of Ginninderry opportunity will follow in the coming weeks, with representatives set to attend the upcoming second sales release in June 2017.