Learn more about the Parkwood Planning Project at Wins Creek Meadery
A new community information display has opened at Wins Creek Meadery in Murrumbateman this week as part of ongoing engagement with the local community for the Parkwood Planning Proposal. Previously at Trader & Co. in Yass, the display can be viewed on Thursday to Sunday during the opening hours of 10am – 4pm.
The Parkwood Planning Proposal is the NSW component of the larger Ginninderry project, which is proposed to be the first cross-border development in Australian history.
For those not already familiar with the project, Joint Venture (JV) partners the ACT Government and Riverview Developments Pty Ltd (on behalf of the Corkhill Brothers Pty Ltd, and in addition to the four adjoining land owners), have proposed a plan to integrate the ACT-NSW communities through the project.
While rezoning of the ACT land was approved in 2016, the decision whether to rezone the area in NSW is anticipated to occur in 2018. Even if the area is rezoned next year, however, the earliest development is not expected to occur in NSW until 2033.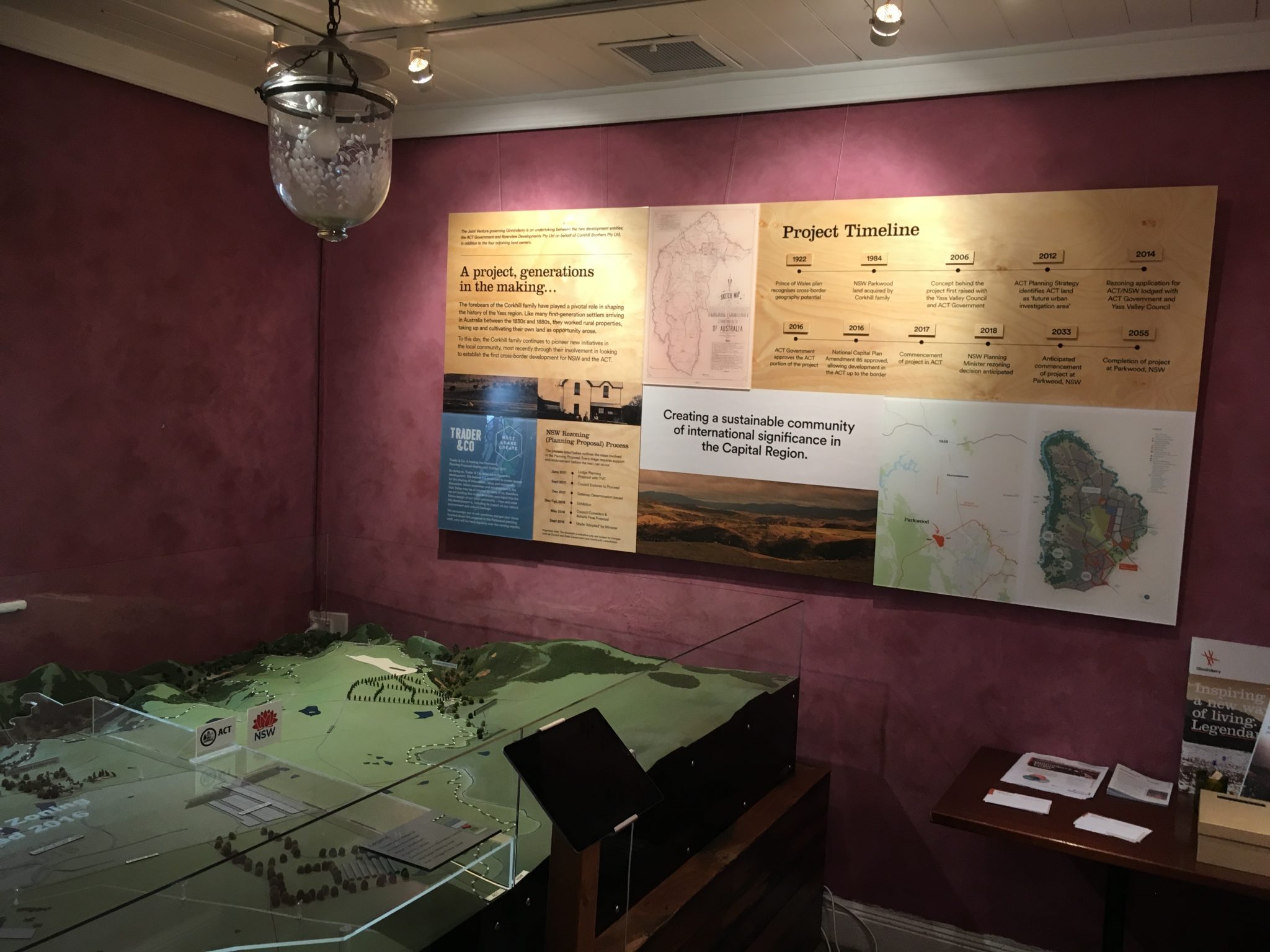 At Wins Creek Meadery, visitors can learn about the history of the project, see an indicative timeline, watch a video about the Corkhill family's unique connection to the region and view other interactive displays – all at the same time as enjoying local and regional produce, including pasture pork, free-range chicken and eggs. A range of sweets are all made in house to be enjoyed with fair trade and organic coffee.
Visitors can also browse the Wins Creek gift shop for handmade ceramics, beeswax candles, gorgeous quilts, stained glass ornaments, and of course honey, from the Bindaree Bee Supplies.
While a formal community consultation period as part of the NSW government planning process is not scheduled to commence until late this year, a member of our Parkwood Planning Proposal team will be at Wins Creek Meadery between 11am – 1pm Thursday and Friday and 12pm – 2pm on Market Day Saturdays.
For more information on the Parkwood Planning proposal click here.