Bike to the future: Why e-bikes are taking over Canberra's bike paths
WORDS Beatrice Smith
PHOTOS Ben Appleton
In a post-COVID world, transport is front of mind. Gone is the romance of a bustling train or tram carriage full of city workers on their way home. And commuting by car has also lost its appeal—not only for pandemic-related reasons, but also concerns around climate change and the high costs associated with parking and petrol. However, a green and COVID-safe solution has emerged.
E-bike sales have been rising steadily across the world, with Deloitte predicting that 130 million electric bikes will be sold between 2020 and 2023. Given that e-bikes are also easy to use—with an in-built electric motor and rechargeable battery that boosts riders up hills and on long trip —it's no surprise that Canberrans have embraced the trend.
It's not just e-bikes' green credentials or health benefits that make them so appealing, says Zuleka Chan, Project Officer at SEE-Change which runs Canberra's only e-bike library. Canberra's advantage as a planned city with networked bike paths means that, on an e-bike, destinations that many Canberrans would never have previously thought to cycle to are now accessible.
"The average distance Canberrans travel per trip is less than 10 kilometres," says Zuleka. "While the idea of cycling 10 kilometres might sound daunting to many, it's a distance easily coverable by e-bike with very little effort, no sweat and in a time frame comparable to driving, parking a car and walking to the door of your destination—not to mention costing practically nothing compared with running and maintaining a vehicle."
She adds that "Canberrans are already looking for ways to reduce their carbon footprint, spend more time outdoors and get some incidental exercise, so it's no surprise that once we try out e-bikes, we're hooked."
So hooked, in fact, that in 2021 it was reported that 81% of people who borrowed an e-bike from the SEE-Change e-bike Library went on to purchase their own e-bike.
It's perhaps unsurprising that this uptake has flowed through to new communities like Ginninderry.
Being a future-thinking, sustainability focused community, Ginninderry welcomed the e-bike revolution early. In 2019, Ginninderry purchased four BYKKO e-bikes allowing visitors and residents of all abilities to explore the area. The bikes are available for free for the first two hours of each rental and no one was quite prepared for how popular the small fleet of four would be.
"Initially most of the usage was from Ginninderry's own staff," laughs Jessica Stewart, Sustainability Manager at Ginninderry. "But now the community has really embraced the bikes…in 2021 the bikes travelled over 2,100 kilometres. That's equivalent to riding from Canberra to Townsville."
Cyclists aren't just exploring around Ginninderry, either, but the entirety of Belconnen and surrounds.
"Residents are now taking the bikes on longer journeys…some people are taking them to play tennis, to the shops for groceries, they're taking them to Ginninderra lake, they ride them to Shepherds Lookout to see the view. We've even seen the bikes ridden down to Lake Burley Griffin which is a significant ride."
Jessica adds that the data Ginninderry receives from the e-bikes allows them to know which routes are being used the most. "By analysing where people travel on the e-bikes we can see which paths and tracks are getting the most use. This helps us plan our new suburbs by making sure we provide the right paths in the right locations". And this is just the start when it comes to the community's e-bike aspirations.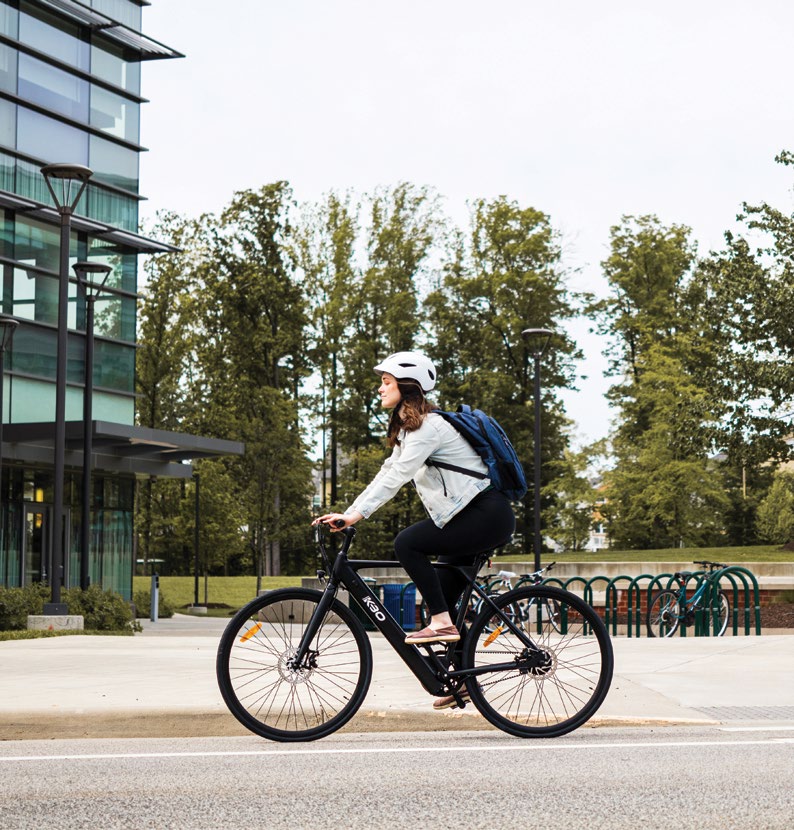 "Ideally, when Riverside Park opens, we'd like to put some e-bike docks there so people can ride down, go for a swim and ride back." With the first two hours' rental free, 60 kilometres of cycling range on a single charge and a top speed of 25 kilometres an hour on BYKKO's e-bikes, it's no surprise that Ginninderry residents have taken to e-cycling.
Zuleka thinks this is also because there are more challenges to riding a normal pushbike than you may think.
"Regular bikes certainly have their role in the active travel space, but realistically there are a lot of barriers to getting on a good old pushbike," she explains.
"Take parents, who often need to trip-chain multiple activities like getting themselves from work to school to pick up the kids, dropping one child off at music practice and another off at sport training and then doing the grocery shopping in between."
"Trip-chaining with passengers and cargo is practically impossible on a pushbike, but an electric cargo bike removes many of these barriers. At its core, e-bikes open up cycling to a whole range of people who would struggle to use regular bikes by helping to overcome logistical barriers, lower fitness levels, hills, long trip distances and not wanting to arrive sweaty."
These barriers are what SEE-Change aims to break down by offering e-bike rentals as part of an ACT Government initiative in collaboration with local e-bike business Switched on Cycles.
"The government's primary intention is to give Canberrans the opportunity to integrate e-bikes into their lives for a short period to essentially try before they buy," explains Zuleka.
"The initiative has been hugely successful so far; we've had overwhelmingly positive feedback from our participants, many of whom have gone on to buy their own bikes and use them extensively. Each day more and more people sign up to our waitlist, and we are incredibly proud that so many Canberrans are keen to swap out car trips with e-bike trips."
This pride is also felt in Ginninderry, where Jessica says e-bikes aren't just improving accessible travel options and emission reductions, but moods. "Everyone who gets on an e-bike ends up smiling," she says. "So, there's a lot of joy in it too."
WANT TO RENT OR CHECK OUT AN E-BIKE? HEAD TO THE L INK AT GINNINDERRY OR THE CANBERRA ELECTRIC B IKE LIBRARY, LOCATED AT THE SEE-CHANGE OFFICE IN THE DOWNER COMMUNITY CENTRE.
Top Tips for buying an e-bike
From Zuleka Chan of See-Change

1.

DECIDE WHAT YOU WANT TO USE THE BIKE FOR

Is it for the daily commute, where you only have to carry one bag or laptop? Are you looking to grab some groceries on the way home but not do a full week's shop? Or do you want the ability to regularly transport kids, dogs, groceries and Bunnings hauls?

Answering these questions will help you decide whether you're looking for a standard e-bike or a cargo bike with more carrying capacity. Both have the ability to totally replace the car, depending what your lifestyle is.

2.

WRITE UP A WISH LIST

Keep in mind how much range you need from the battery—or whether you need two—as well as your preference for hub-drive vs mid-drive motors, gear types, brake types, frame style and number of wheels (trikes can be a great option for some).

Pick the bike that you know you will actually use! The bike library can help with this decision of course, but you can also test ride bikes and do short-term loans from various bike stores to make sure you know what features will encourage you to ride more often and what features would irritate you and prevent you from cycling.

3.

DON' T BE AFRAID OF THE PRICE

When considering cost, it can be easy to get caught up in the $2000-10,000 initial outlay. But don't forget about the savings you'll be making by riding more often than driving.

Best case scenario you sell the second car and replace it with a bike, but even if you keep the car you'll be saving thousands a year on reduced running and maintenance costs (think fuel prices!).

With renewable energy, running costs for e-bikes are essentially zero, while maintenance is unlikely to cost more than $100 a year.