3 eco-friendly garden ideas
Make the most of the outdoors even more this summer with these additions to your garden that will level up your alfresco areas, while also being kind to the environment.
1. Create a grass driveway with Grass-Cel
While concrete or asphalt driveways tend to be the norm, neither option is particularly eco-friendly. They not only deplete natural resources and release carbon dioxide during production, they can also cause excess rainwater and chemicals to run off into sewer systems and waterways.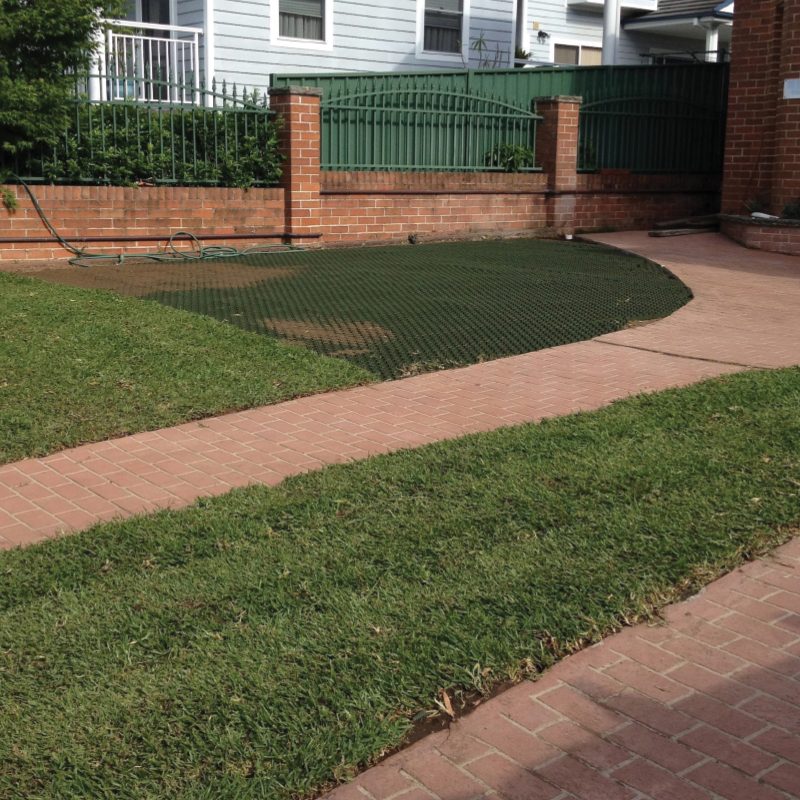 So here's an option that is quite literally green.
Australian company Grass-Cel creates porous paving blocks which let you create stable grass parking and driveway areas. The blocks sit underneath your turf, which allow it to grow as normal. Once installed, it will look like you have a natural lawn driveway that can blend with the rest of your lawn. And it will also be able to withstand high traffic and car parking and remain looking healthy, whether you're parking your car, 4WD, trailer or even a caravan. By adding more grass to your garden in the form of a driveway, it can help prevent soil erosion, absorb rainwater, reduce glare and noise, clean the air, and cool your environment.
What makes Grass-Cel paving blocks even more eco-friendly is that they're made of 100 recycled High-Density Polyethylene (HDPE) from broken council wheelie bins. This hardy material will never break down, which makes it not great for the environment, but the perfect candidate to be given a second life. "It works well for us because it means our products don't rot and aren't affected or broken down by UV light. So by turning the material into our paving blocks, we're turning it into something positive," says Vicki Weeks from Grass-Cel.
"All of our products are manufactured in Australia, and they're the only porous weight-bearing block accredited by Good Environmental Choice Australia (GECA)."
As well as being a great option for residential driveways and high-traffic areas, Grass-Cel blocks have also been used at some of Australia's most prestigious golf clubs, and other public
areas.
Grass-Cel paving blocks are easy to install yourself, and can be cut to fit any space.
grasscel.com | 0428 260 389 | info@grasscel.com.au
2. Wicking garden beds from WaterUps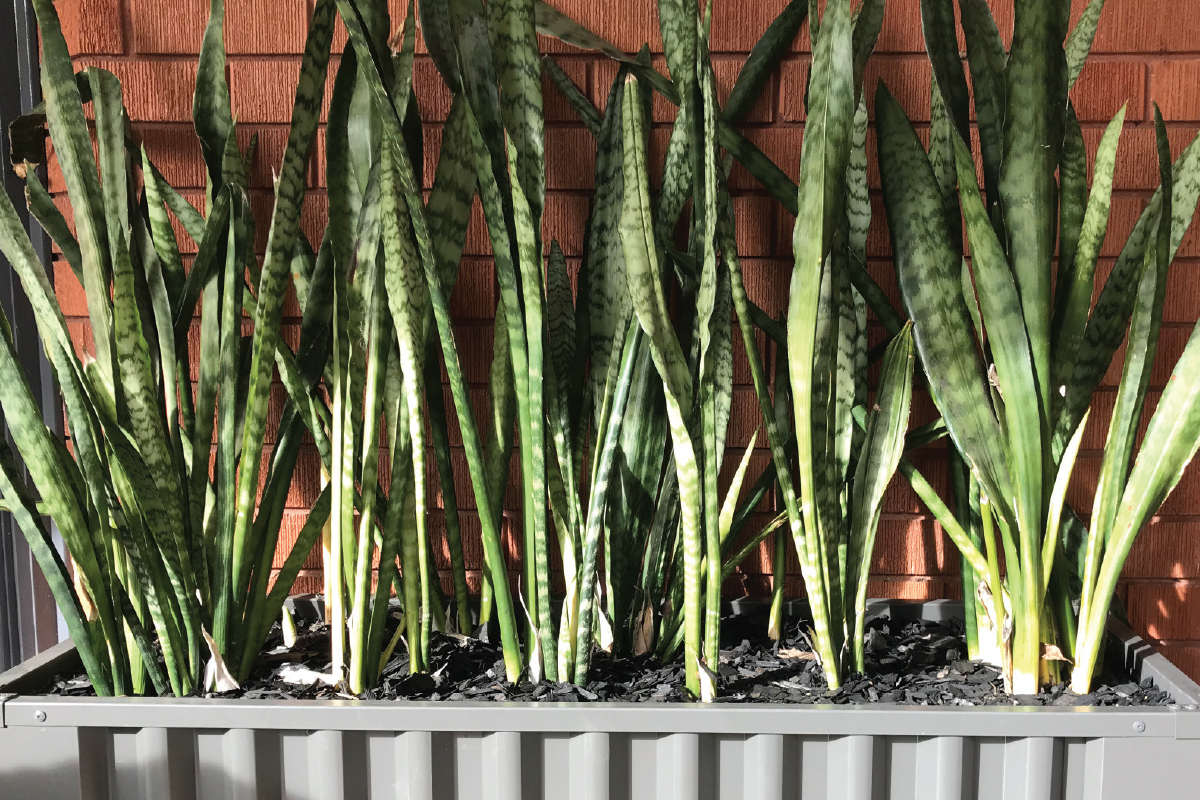 Watering your garden can be one of the biggest users of water in the home, particularly during the summer months. So how can you make the precious resource go much further while still keeping your plants alive?
If you've ever put a plant pot over a saucer of water and the soil then soaks the water up from below, you understand the basics of water wicking. In a nutshell, it's the process of the soil drawing water upwards in a capillary action, caused by surface tension and other forces.
To harness this natural process, Australian company WaterUps designed a unique product to not only combat water waste, but also reduce the water needed for maintaining your garden. The basis of the WaterUps products is the wicking cell: a 40cm square tile, with four hollow legs sticking out the bottom. Adding the cell creates a false bottom in your garden bed, creating space for a water reservoir underneath, while the hollow legs are filled with a product called Perlite which helps aid the wicking process. Soil or potting mix is then added on top and plants are planted as usual. Once it's all set up, the soil then soaks up water from below as it needs it. You add water to the reservoir via an inlet pipe, which you can also use to check how much water is left in a similar way to how you'd check the oil in a car.
"Because you pour in the water down the pipe and straight into the reservoir, any water that you're using on your garden goes into your garden, not over the side onto the pavement, or up into the sky through evaporation. So every bit of water is going further," says Bob Stevenson from WaterUps. From their estimations, WaterUps wicking systems have saved more than 25 million litres of water, compared to conventional watering."If it rains, any rain that goes on to your garden will replenish the garden, but any excess water in your garden will go back down into the reservoir to be reused. So the soil will just stay nice and moist, and it promotes the biology of the soil, which makes for healthier soil, and healthier plants."
All WaterUps products are made in New South Wales, from 100 per cent recycled plastic, and the company has so far diverted more than 86,000kg of plastic from landfill.
The products can be used in garden beds above or below ground, and they are modular, so can be arranged to suit almost any space. You can either buy the WaterUps Wicking System itself, which includes everything you need to build your own wicking bed, or you can buy flatpack wicking beds or planter boxes, which have the wicking technology incorporated and are quick and easy to install and get growing.
waterups.com.au | 1300 205 550 | info@waterups.com.au
3. An Ecosystem in your garden from Gordon Gnohm
When you build a new home, renovate, or even just re-do your landscaping, it can cause a disruption to not only the landscape, but also the area's overarching ecosystem. Gordon Gnohm, from The Gordon Gnohm, specialises in transforming gardens into thriving ecosystems which are also low maintenance for the owners. To replicate systems found in the natural environment, he starts with water as the basis of all designs. Water is captured on the roof of the home, and then funnelled, stored, and distributed across the garden to where it is needed most by the plants.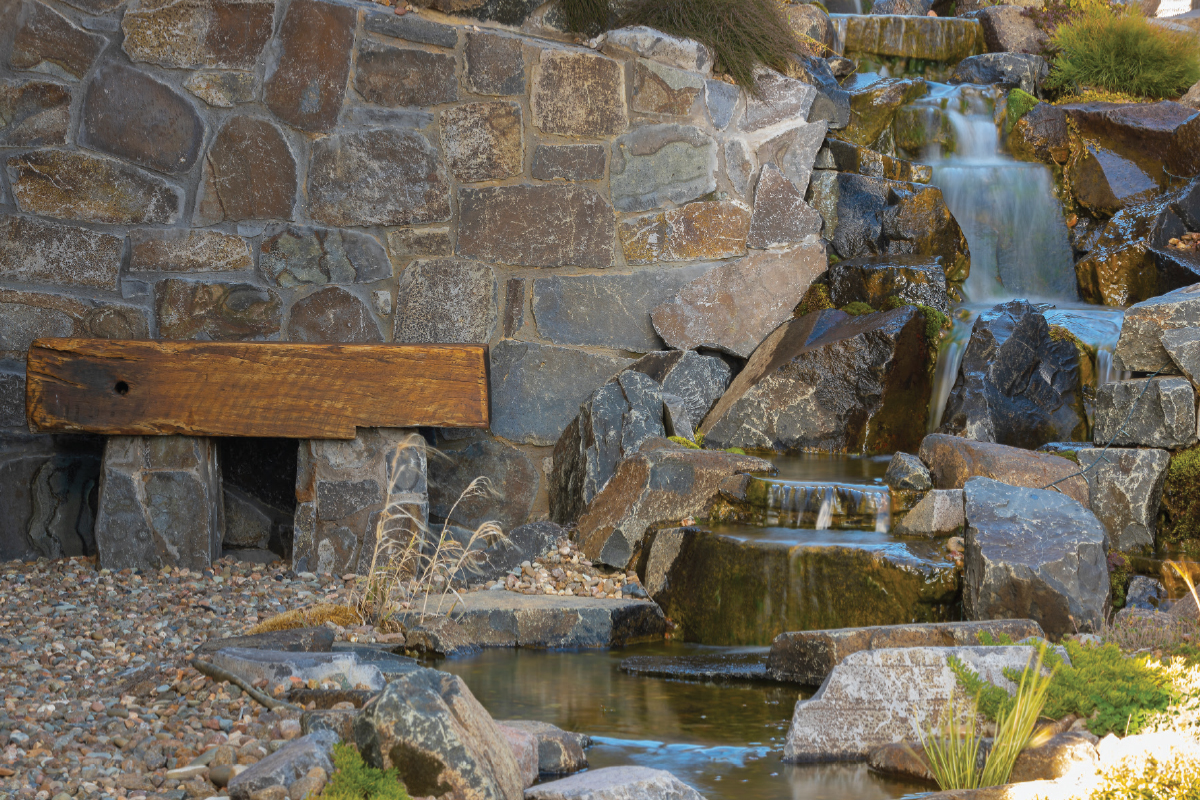 To design gardens, Gordon first meets with clients, and discusses their lifestyle, how they want to use the space, and what they want to grow, and he can ultimately design spaces for any size or budget. By incorporating smart design features, it ultimately changes your garden's microclimate, so you can grow almost anything that you'd like. Gordon's designs are low maintenance for the owners, and self-water and self-mulch where possible.
His designs also incorporate water features that are not only beautiful to look at, but also help nutrify water, making it more potent for when it goes on to water the garden.
"The water feature makes the water nutrient-rich, because of all of the microbes and the activity from the
birds and animals coming and going. So it supercharges a simple system," says Gordon.
"By having the water there, the birds start coming for a bath that's super entertaining. But they're also there to eat the bugs and pests in your garden. In a new suburb or development, it's really important to have permanent water sources for the critters to come back. Because during development they're pushed out to the edges, and they're all on the fringe. With every water feature we've put into a new suburb, birds are there within the day. We actually give all of our customers a book so they can start bird spotting."