Café Stepping Stone recipe – Corn and Zucchini Fritters
By Nandar Win and Hannah Costello
At Cafe Stepping Stone we try to work as a team wherever possible, and this staple on our Summer menu is testament to that. I (Hannah) wanted to put corn fritters on the menu but when I was testing recipes they weren't turning out the way I wanted. Nan worked her magic and that was where these spicy, crispy gems came from.
Serve them with a sweet chilli sauce or a cooling mayo and fresh salad to make it a meal.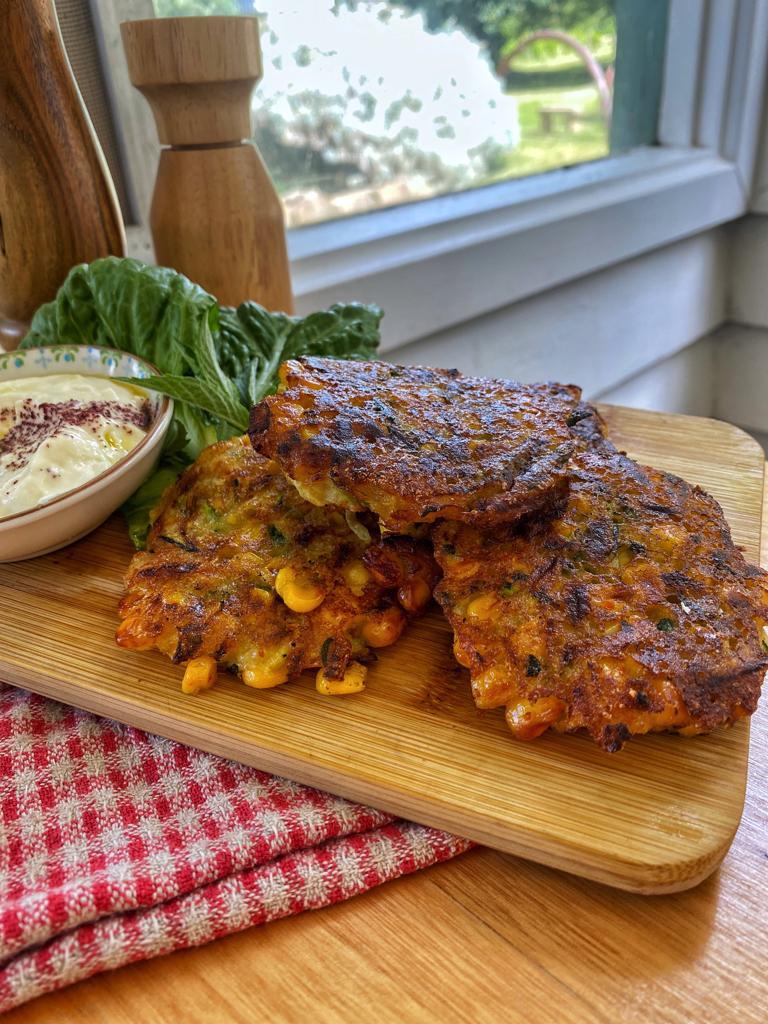 * Put your corn husks and cob into a pot with water to make a delish stock for your next soup
Ingredients
2 Corn on the cob, large, kernels sliced off the cob* or 1 ½ cups of corn
2 zucchinis, grated
½ inch of Ginger, sliced
½ tsp of Chilli flakes
2 cloves of Garlic
1 tbsp of sliced pickled Galangal (or fresh) optional
1 ½ tsp of Salt
1 cups of Flour
Neutral oil
Method
In a blender, add ½ a cup of corn, the ginger, chilli, garlic, galangal, salt and ¼ cup of water.
Blend until everything is smooth and becomes a paste.
To a mixing bowl add the remaining corn, grated zucchinis and the paste in the blender. Mix well.
Next, add in the flour and mix until a sticky batter is achieved. Put aside.
Over at the stove, heat a non-stick pan on a medium to high heat.
Add 2 – 3 tablespoons of any neutral oil.
Once oil is hot take a ¼ cup measure of your fritter batter and add them to the pan, you should hear them sizzle when they hit the oil.
Be sure not to crowd the pan, depending on the size of your pan you may have to cook the fritters in multiple batches.
Cook on the first side for 3-4 minutes or until it easily realises from the pan. Flip the fritter and cook the other side for the same time.
Once both sides are golden brown, remove the fritters from the pan.
Repeat the process with the remaining batter.
Once all of the fritters are cooked, they are ready to enjoy!