Artist Profile: Ajith Perera
Canberra-based artist Ajith Perera has always loved the immediacy of drawing.
And while, for over a decade, he's been working as a successful lawyer in various organisations, it was the desire to have a more formalised approach to his passion that saw him recently start a visual arts degree at the Australian National University.
Now with more 'broad exposure' to different mediums and practices—as well as time well spent consolidating and refining his skills—Ajith is presenting his first solo exhibition at Strathnairn Arts: Shadow Work.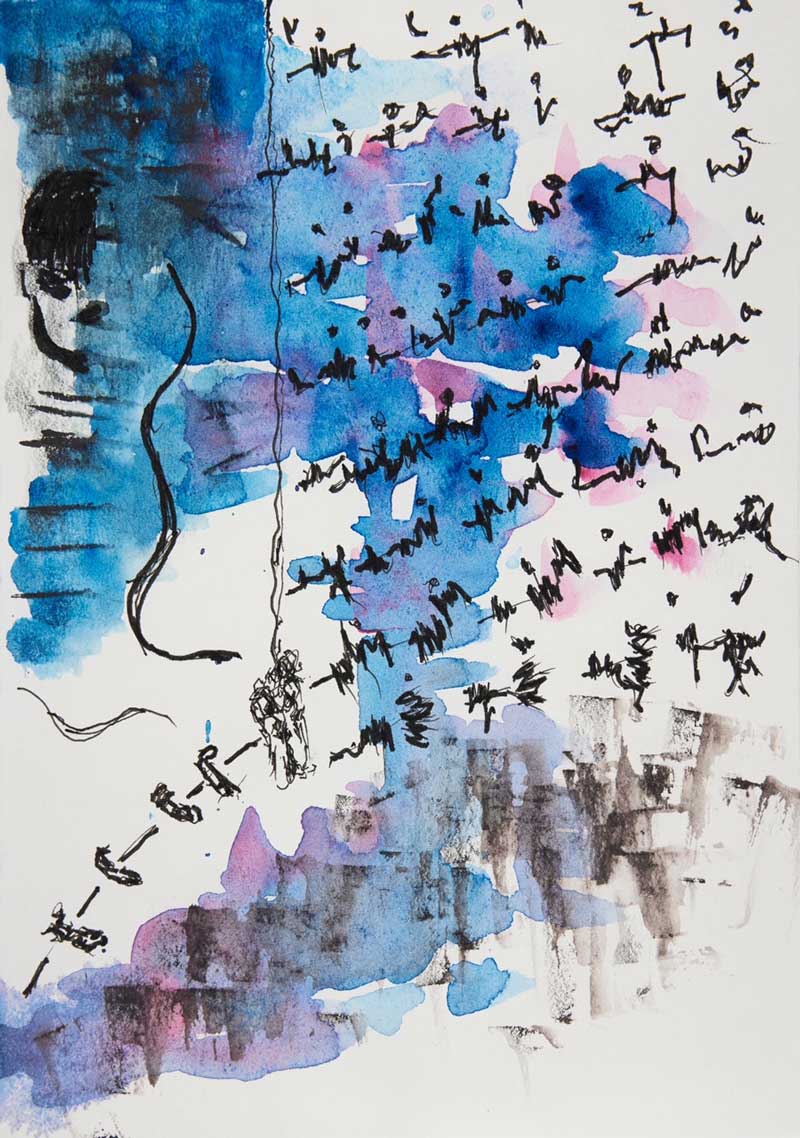 Inspired by Surrealism as well as the bizarre and esoteric work of Marlene Dumas, Bill Henson, Michelle Kingdom and Outsider artists, the exhibition showcases his subconscious thoughts, feelings, desires, and fears, all created using ink.
"I take an almost stream-of-consciousness approach to drawing. A lot of the works that I've created start with some initial marks that are not necessarily directed consciously. From that initial mark-making, I see something emerge and then I can mould the drawing in a particular direction," says Ajith.
"I typically use things like fine liners because it doesn't break my flow in creating a drawing and a lot of the drawings that I've done—or invariably almost all of them—have been in one sitting. It's very much about capturing a mood or an emotional state at a particular point in time."
Describing the process as introspective and isolating (which often sees the work contain a sinister or unsettling element) as part of his practice, Ajith keeps a sketchbook by his bed to capture emotional states as he experiences them—making the artworks in Shadow Work both very personal for the artist and relevant for the viewer.
"Sometimes, I'll have a restless night and I'll do a quick sketch. I'm really trying to capture emotional states as I experienced them, so there's a real immediacy to the work I create," he says.
"Fears and desires, those are things that have relevance to everyone else as well. And hopefully, in looking at my work, there's an opportunity for people who view the work to engage with their own feelings."
"I've included a hardcopy book at the exhibition where I have invited people to disclose their fears and desires with a view to me creating further work based on what they may have noticed….I'm interested to see what's noted in that book, and there's also an opportunity for people to email me directly. That could be a further source of work that I create in the future."
Also selected as a finalist in the ANU Drawing Prize exhibition and with plans for a future exhibition at the Red Gallery in Melbourne's Fitzroy North arts precinct, Ajith says having his first solo exhibition hosted at Strathnairn Arts has been an amazing opportunity to kickstart his new career path as an artist.
"It's a great opportunity for emerging artists to have their work showcased in a professional gallery setting…I found the gallery staff to be very professional and I enjoyed the opportunity of exhibiting," he says.
And with plans to continue to build his portfolio and possibly expand to new mediums (including the more forgiving pencil), the themes and ideas he is so passionate about will continue to be translated to canvas and paper for people to enjoy.
"Hopefully, it's thought-provoking work that has a lasting impression and will be something that people would enjoy over time."
Shadow Work is showing in Strathnairn Arts' Homestead Gallery 1 until Sunday 27 August.