The spark that ignited Dylan's fire
WORDS Emma Macdonald
At just 15, Dylan Armstrong was at risk of being lost. Lost to family instability which saw him drop out of school, lost to a bad crowd he started hanging out with, and possibly even lost to a life of alcohol and substance abuse.
But instead of being lost, Dylan was found—by Ginninderry's groundbreaking SPARK Training and Employment program.
Two years on and Dylan has a full-time job with Huon Contractors, a roof over his head, a girlfriend, a car he paid for himself, and he is increasing his education and skill set with a Certificate IV in Construction.
His future lies not in the margins of disaffected young people turning to lives of hopelessness and crime, but with skills for a productive working life. Most importantly, Dylan is happy and has hope for his future.
The polite and softly-spoken young man has been found. Two people who deserve some of the credit for pulling Dylan back from the brink are Dan Crowe, the affable foreman for Huon Contractors, and Emma Sckrabei, SPARK's Head of Community Training and Employment.
Together, Dan and Emma have put Dylan on a new trajectory. And now they could not be prouder.
"I could see right from the start, that even though he was very young, I knew he was going to do well if he was only given a chance," said Emma. "It was just all the outside factors that were
going to maybe stop him, his homelife, and hanging with kids who were no good for him. But he was always respectful and reliable and had a strong foundation for all those work-related skills. I could also see he had a real talent for problem solving and he was a bit of a perfectionist."
Dylan, who previously enjoyed school before his family break-up, remembers finding his feet right from the start.
In a 12-week training program,he learned how to use hand and power tools, excavation, brick and concrete laying. And he was helping develop one of Canberra's most unique developments. Not only does Ginninderry have the highest 6-greenstar rating for its environmental sustainability practices, but its SPARK program provides a social contract with the local community to deliver education, training, work experience and job opportunities across a range of fields.
"We know our project is located on the doorstep of one of the lower social-economic regions in Canberra. And we have a social obligation to assist," said Emma.
SPARK not only offers training programs, but also runs courses for Women in Trades, Conservation and Land Management, Women Returning to Work, introductory IT, Early Childhood Education and Care, and Disability support courses, among others.
Out of a busy and beautifully designed multi-purpose community and information building named The Link, teams of participants attend courses, mingle with support workers and educators and are assured of a helping hand when it comes to wearing the correct personal protection gear and warm coats. They also get to eat a solid, hot breakfast, lunch and fruit during the day, or even access counsellors, depending on individual circumstances.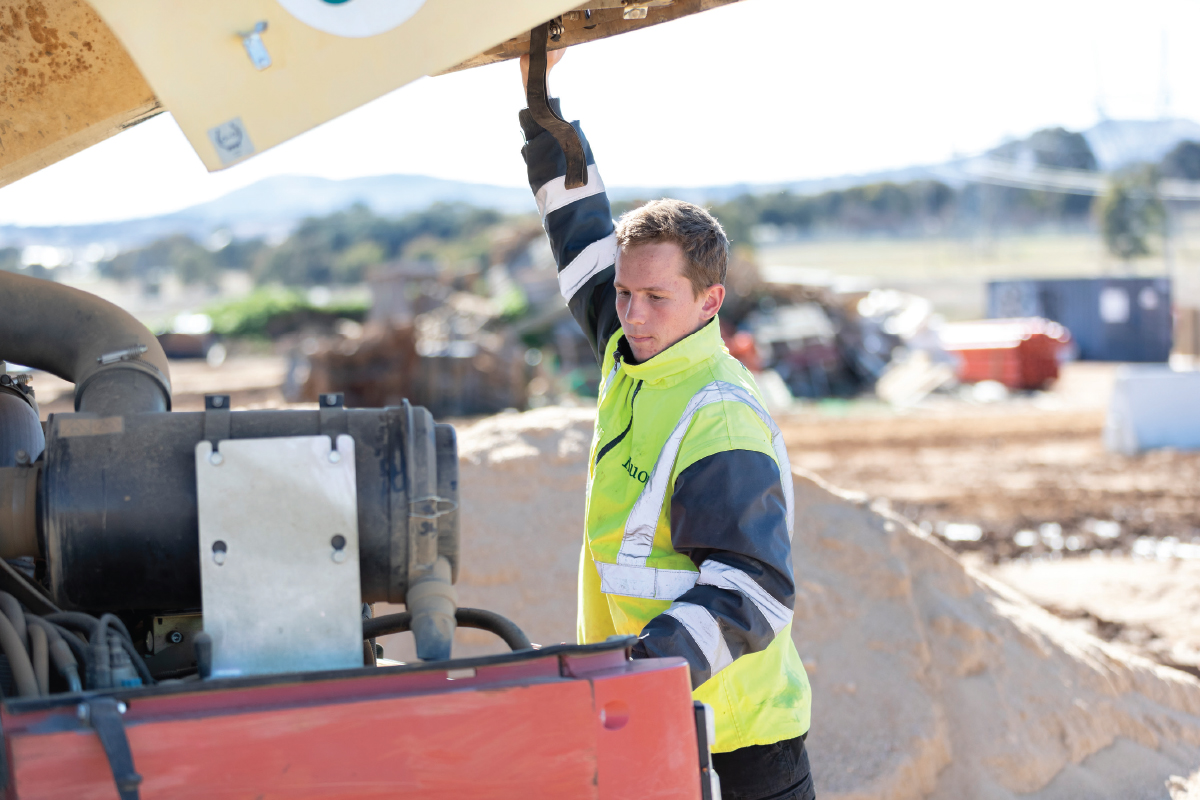 "We tend to go the extra mile to bring support where support is needed," said Emma, who was increasingly alarmed to see her young tradies turning up for a full day's labour with little more than an energy drink to sustain them, and now happily does a massive grocery shop at the start of each week to keep
them well fed.
The support that Dylan received from Dan was more personal. Dan, who is referred to on his building sites as Captain Dan (this is due to losing an arm in a sawmill accident early on in his career and now having a hook like Captain Hook), remembers meeting a young Dylan when Huon took on some of the SPARK graduates for work experience.
"Emma told me he was doing it seriously tough at home and so I wanted to make sure he knew he had someone to lean on," said Dan. Dylan recalls that Dan was kind and available for a chat right from the start.
"Dylan is a good kid with a good nature who was in a very bad environment, but he will do alright from now on. He would have slipped through the cracks. We saved him I reckon."
"For the first couple of months I tried to keep it as work, like to just leave the other stuff at home and focus on work. But it was so hard, and then it got to a point where I just couldn't keep going and I had to tell someone, I guess, about why I wasn't there the days I was having off, and how things were affecting me…so I told him," Dylan said.
"Captain Dan was pretty much trying to get me away from my current situation and living somewhere else so that I could keep coming to work. He even offered that I could come and live with him."
While Dylan found refuge moving in with his girlfriend's family, Dan found another team member to drive Dylan across town from Tuggeranong for his early starts each morning.
He recalls feeling an immediate connection to the young trainee.
"I've got three kids and know how important it is to be a good parent to help them through things. Dylan had such struggles in life and none of the parental role models or guidance that he deserved. I stepped in to be a mentor and to see him through it and the first thing I said to him was 'you've got to get out of there'."
"Nowadays he is a great worker. He is reliable and happy. He used to be pretty shy and he was young, but over the last 18 months he has really come out of his shell."
Dylan said Dan's constant support made the difference in him sticking to the job.
"He gave me a lot of motivation to kick on. Because there were a fair few times there where I just wanted to quit and go back to what I was doing before I got my job. There were some times where I did want to give up."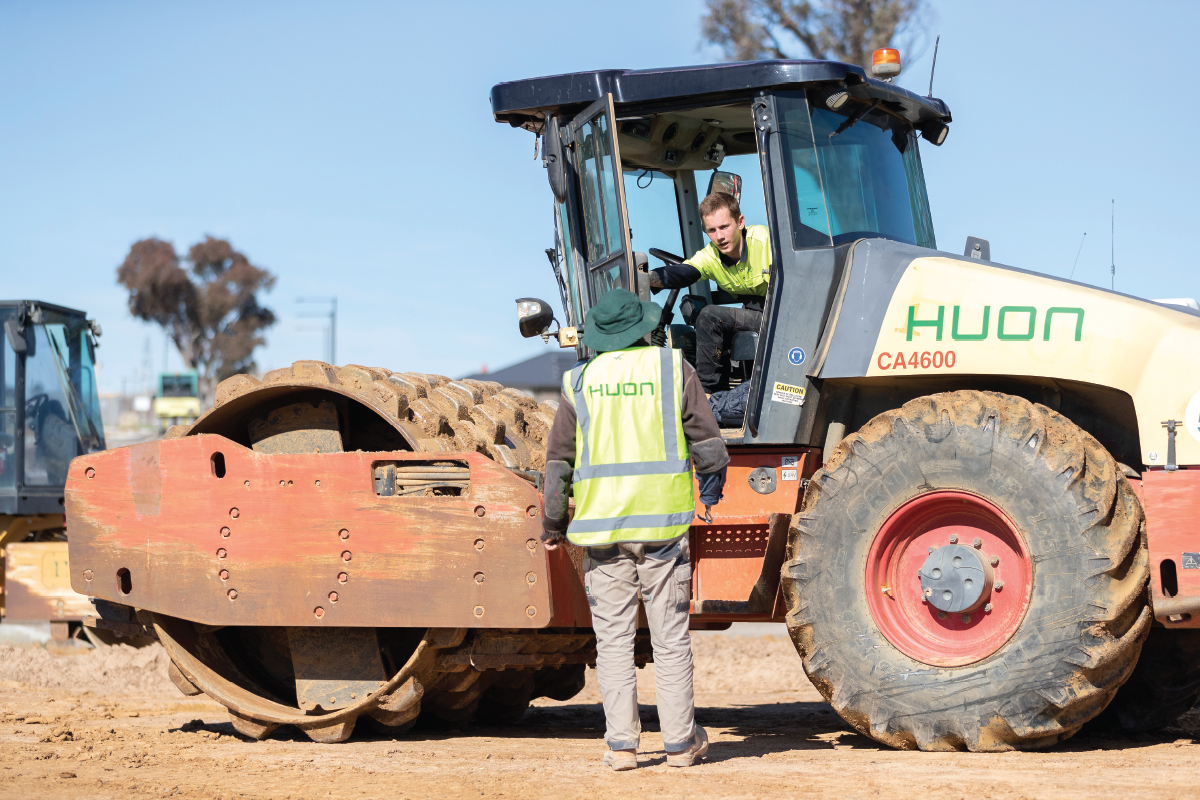 Dan said knowing kids like Dylan had turned their lives around while working as part of his team was the best part of his job.
"I love what I do, even after 30 years in the industry. I love to look after my team and to get the job done. But seeing some lives change so much is a real reward."
"Dylan is a good kid with a good nature who was in a very bad environment, but he will do alright from now on.
"I could see right from the start, that even though he was very young, I knew he was going to do well if he was only given a chance."
He would have slipped through the cracks. We saved him I reckon. Had he not come to the program, and not received support from workers who care and a stable influence from an older bloke which he didn't get from anywhere else then who knows where he would be?"
These days Dylan is busy helping lay drainage pipes. You may find him on his Bobcat or his excavator making sure all the levelling is perfect, and working conscientiously until his day is done.
His girlfriend is now considering doing a SPARK program herself—Women in Civil Construction. There are lots of options and opportunities in front of them, and thanks to the initial spark that Dylan received, his future is bright indeed.