The feelgood project that has inspired $1M of industry support
It's the million-dollar house designed by women, built by women, and supporting women.
Canberra's new charity house in Strathnairn, which is a joint venture between Ginninderry and Master Builders ACT, started out as a project focused on women in trades, and is coming together thanks to an all-female team. And that's no small feat, given just how underrepresented women are in the Australian construction industry. It's even more impressive considering that just under $1 million of material, time and services has so far been provided for free by dozens of local contractors.
KANE Constructions ACT are leading construction and General Manager Jo Farrell says she has been blown away by the support from the community, with more yet to come.
"I'm not originally from Canberra. But the one thing I've found here is that people are very generous, and the industry is very relationship-driven. So I haven't had to twist too many arms or kick down too many doors yet. People have been super responsive and have been very generous in terms of what they're willing to do," says Jo.
"And it really is a million dollar house—our costs are right up there. So when you're talking about value, you're talking about businesses who are donating upwards of $50,000 to $60,000 worth of materials and labour, and that's a massive burden given the current economic situation for any business. And the time and energy that it takes to coordinate all of it as well is never really valued. So it's a big ask. But so many people have been more than generous, even to the point where we've had people phoning and asking, 'What do you need? How can we help in some way?' So it's been pretty positive."
The architecturally designed home has four bedrooms and three bathrooms, plus a stunning facade which will be unlike anything else in the area. And while it's being built for free, the home itself is a premium build, with customised and bespoke features throughout.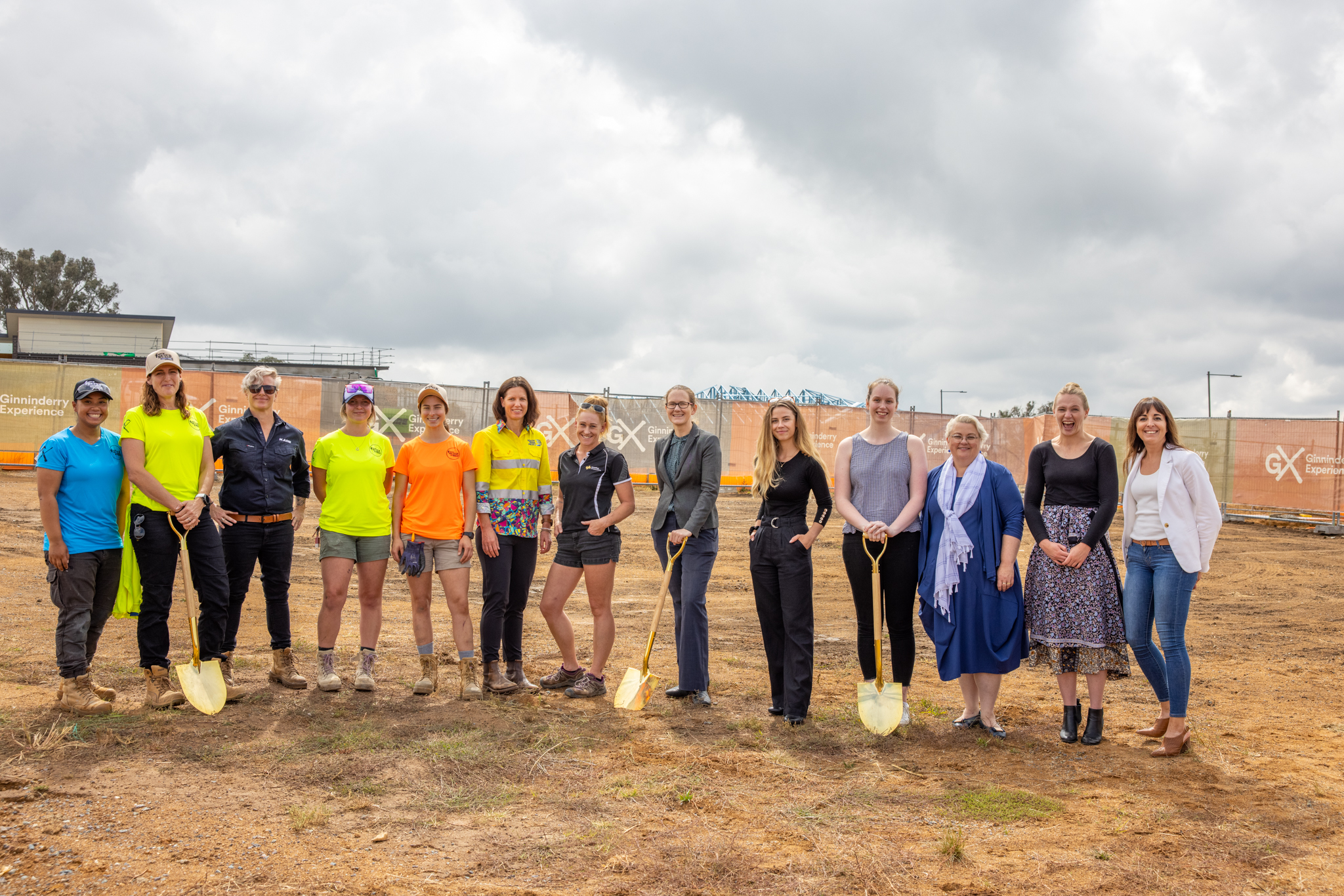 "Our brief was basically to design a million dollar house that will get built for nothing. Cassandra Keller from CK Architecture was lead designer, and she put Abbie Muir and Madison Bauer from her team onto it. Then we had consulting engineers Anna Nagalingam and Tamika Rowland from Indesco for the civil and structural side," says Jo.
"And with Ginninderry, sustainability is a prominent feature. So we then engaged Jenny Edwards from Light House Architecture and Science, and she tweaked a few things to improve the design from a sustainability point of view. And with her tweaks, the house will have a seven star EER rating."
The house is also coming together thanks to the generosity of Harris Hobbs Landscaping, Select Structures, MMB Surveyors, Rider Levitt Bucknall, Evolve Timelapse, Coates Hire
RSS Waste Management Services, CE Industries, ARC Reo, Bluescope, Lysaght , Steel Truss Tech, Weathertex, Harvey Norman Commercial, Solace Creations, Dulux, Rivoland Tiles, Boral Concreting, Huon Contractor, Axis Plumbing, Squibb Electrical, Pacific Formwork, and Eifer projects, Delnas Metal Roofing.
Completion of the charity house is expected later in 2021, with the auction planned for early November. And continuing on the theme of women supporting women, the money raised from the sale will go directly back into the community to help women in the community. Funds will be distributed through Hands Across Canberra and go towards three worthy local charities: Pegasus Riding for the Disabled, Karinya House and Canberra City Care Charnwood.
The full list of generous contributors for the Strathnairn Charity House to date:
Builder
Kane Constructions
Design
CK Architecture – Cassandra Keller, Abbie Muir, Madison Bauer
Indesco consulting engineers – Anna Nagalingam and Tamika Rowland
Harris Hobbs Landscaping – Karina Harris
Light House Architecture and Science – Jenny Edwards
Certifier
Select Structures – Annette Owens
Surveyor
MMB Surveyors  – Hannah Pearce
Quantity Surveyor
Rider Levitt Bucknall – Fiona Doherty
Timelapse Camera
Evolve Timelapse – Adrien
Suppliers
Coates Hire – Andrew Cheney
RSS Waste Management Services – Jeremy
CE Industries – Sarah Ackerley
ARC Reo – Peter Godden
Bluescope – Tony Apps
Lysaght – Albert Nowlan
Steel Truss Tech – Vito Huang
Weathertex – Glenn Cairncross
Harvey Norman Commercial  – Sarah Flanagan
Solace Creations – Karen Porter
Dulux – Anthony Vatalis
Rivoland Tiles – Remi Guglielmin
Boral Concreting – Charlotte walker
Subcontractors
Huon Contractors  – Anisha Sachdeva
Axis Plumbing – Anthony Hayman
Squibb Electrical – Anthony Squibb
Pacific Formwork – Grace Ferreira
Eifer projects  – Jackson Roberts
Delnas Metal Roofing – Nicole and Daryl Leishman