Ginninderry's award winning SPARK Training and Employment Program offers a wide range of accredited courses.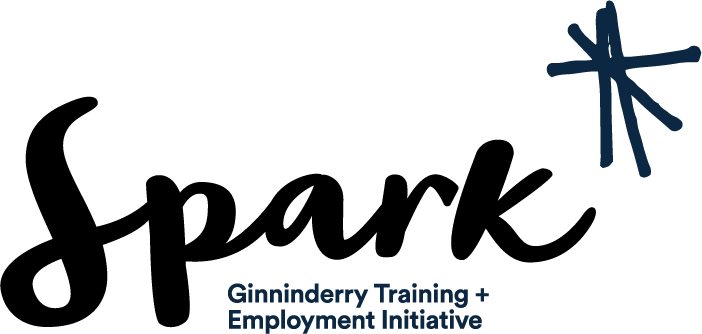 Hundreds of people have been inspired by our SPARK programs—going on to pursue careers in fields as diverse as civil construction, business administration, childcare, hospitality and more.
To find out more and check your eligibility, please contact the SPARK team on 1800 316 900 or email spark@ginninderry.com
Our program line-up includes:
SPARK JobTrainer Industry Explorer
Women Return to Work
JobTrainer Disability Support Taster
JobTrainer Information Technology Taster
Yass Construction Program
Queanbeyan Construction Program
JobTrainer Conservation Land Management
JobTrainer Women in Trades
Early Childhood Education and Care
Construction Taster
IT Taster
Disability Support
JobTrainer Women in Civil Construction
Now enrolling
SPARK in partnership with the Canberra Institute of Technology (RTO code:0101) and Programmed are delivering an innovative accredited
training program focused on skills development, work experience and an introduction to a variety of Construction skill sets. Specifically targeting people 17 years and over and living within the Australian Capital Territory.
On successful completion this program will provide participants with the following units of competency and non-accredited training in the construction sector:
11084NAT – Asbestos Awareness
CPCCBL2001 – Handle and prepare bricklaying and blocklaying materials
CPCCBL2002 – Use brick and block laying tools and equipment
CPCCCA2002 – Use carpentry tools and equipment
CPCCCA2011 – Handle carpentry materials
CPCCOM1015 – Carry out measurements and calculations
CPCCCM2004 – Handle construction materials
CPCCJN2001 – Assemble components
CPCCWHS2001 – Apply WHS requirements, policies and procedures in the construction industry
CPCCPD2011 – Handle painting and decorating materials
CPCCWF2001 – Handle wall and floor tiling materials
CPCWHS1001 – Prepare to Work Safely in the Construction Industry – White Card
· Industry work experience placements on offer with Programmed and potential employment pathway opportunities.
Commencing Monday 6 March 2023, this 8 – 10 week program will run 4 days per week (Mon – Thurs, 28 hours per week) and be a combination of theory, practical hands-on learning and industry work placement.
All training will be delivered on site at a live training site in Holt, ACT.
SPARK together with Master Builders ACT and our partners are proud to launch this innovative training program to encourage more women to consider a career in the civil construction industry.
Civil construction is an exciting part of the sector with interesting roles across the planning, design and creation of major infrastructure projects. This program will provide participants with specialised accredited training and employment pathways.
Please note, those individuals who wish to be considered for this program MUST successfully complete a functional capacity assessment (which includes drug and alcohol testing) before being offered a place on the program. Specifically targeting women from the ACT, this program will:
Provide participants with seven core units of competency and a pathway into a qualification in civil construction
Provide participants with 11084NAT – Asbestos Awareness, CPCWHS1001 – Prepare to Work Safely in the Construction Industry – White Card and 10830NAT Course in Crystalline Silica Exposure Prevention
Provide a range of interesting workshops including resilience, mental health and wellbeing, time management and more
Provide a four-week work placement within the civil sector with one of our partner contractors and potential employment pathways for successful program graduates
Commencing Monday 1 May 2023, this 9 week program will run five days per week and be a combination of theory, practical hands-on learning and industry work placement.