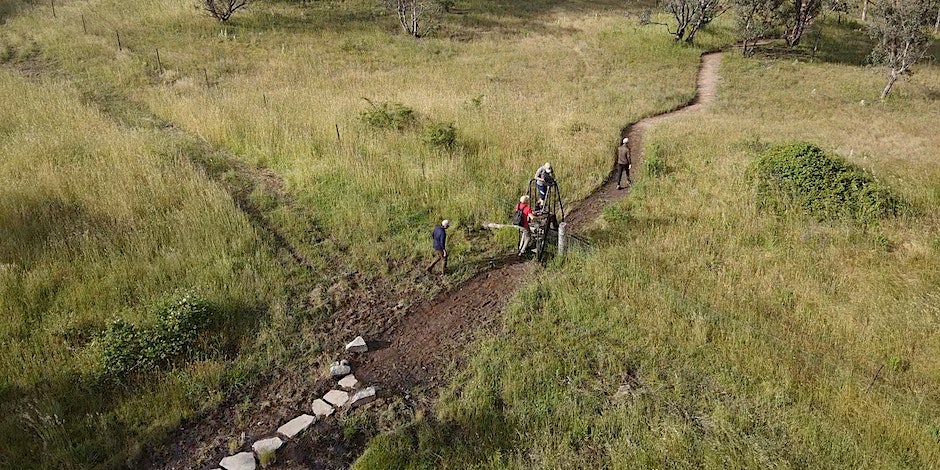 Ever wanted to know more about the Ginninderry Conservation Corridor? Join the Ginninderry Conservation Trust Rangers as they take you along the Strathnarirn to Shepherds Walking Track to learn about the site and all the plants and animals that call the Corridor home.
Please note: This is a moderate level walk along an earthen track. Australian Walking Track Grade 3. Please wear suitable footwear and clothing for the conditions. BYO water, hat, sunscreen and snacks.
PUNJABI
ਸ਼ੈਫਰਡਸ ਵਾਕਿੰਗ ਟ੍ਰੈਕ ਤੱਕ ਸਟ੍ਰੈਟਨਾਰਿਨ ਦੀ ਗਾਈਡਡ ਵਾਕ
ਆਉ ਅਤੇ ਵਾਕਿੰਗ ਟਰੈਕ ਦੇ ਗਾਈਡਡ ਟੂਰ ਲਈ ਸਾਡੇ ਰੇਂਜਰਾਂ ਵਿੱਚ ਸ਼ਾਮਲ ਹੋਵੋ।
ਕੀ ਤੁਸੀਂ ਜਿਨਿੰਦਰੀ ਕੰਜ਼ਰਵੇਸ਼ਨ ਕੋਰੀਡੋਰ ਬਾਰੇ ਹੋਰ ਜਾਣਨਾ ਚਾਹੁੰਦੇ ਹੋ? ਸਾਡੇ ਰੇਂਜਰਾਂ ਵਿੱਚ ਸ਼ਾਮਲ ਹੋਵੋ ਕਿਉਂਕਿ ਉਹ ਤੁਹਾਨੂੰ ਸਾਈਟ ਅਤੇ ਸਾਰੇ ਪੌਦਿਆਂ ਅਤੇ ਜਾਨਵਰਾਂ ਬਾਰੇ ਜਾਣਨ ਲਈ ਸਟ੍ਰੈਥਨਾਰਿਨ ਦੇ ਨਾਲ ਸ਼ੈਫਰਡਜ਼ ਵਾਕਿੰਗ ਟਰੈਕ ਤੱਕ ਲੈ ਜਾਂਦੇ ਹਨ ਜੋ ਕੋਰੀਡੋਰ ਨੂੰ ਘਰ ਕਹਿੰਦੇ ਹਨ।
ਕਿਰਪਾ ਕਰਕੇ ਨੋਟ ਕਰੋ: ਇਹ ਮਿੱਟੀ ਦੇ ਟਰੈਕ ਦੇ ਨਾਲ ਇੱਕ ਮੱਧਮ ਪੱਧਰ ਦੀ ਸੈਰ ਹੈ। ਆਸਟ੍ਰੇਲੀਅਨ ਵਾਕਿੰਗ ਟ੍ਰੈਕ ਗ੍ਰੇਡ 3. ਕਿਰਪਾ ਕਰਕੇ ਸਥਿਤੀਆਂ ਲਈ ਢੁਕਵੇਂ ਜੁੱਤੇ ਅਤੇ ਕੱਪੜੇ ਪਾਓ। ਪਾਣੀ, ਟੋਪੀ, ਸਨਸਕ੍ਰੀਨ ਅਤੇ ਸਨੈਕਸ ਆਪਣਾ ਲਿਆਓ।
HINDI
स्ट्रैथनैर्न से शेफर्ड वॉकिंग ट्रैक तक गाइडेड वॉक.
वॉकिंग ट्रैक के गाइडेड टूर के लिए आएं और हमारे रेंजर्स से जुड़ें।
क्या आपने कभी जिनिन्देरी संरक्षण कॉरिडोर के बारे में अधिक जानना चाहा है? हमारे रेंजर्स से जुड़ें क्योंकि वे आपको स्ट्रैथनैर्न से साथ शेफर्ड्स वॉकिंग ट्रैक पर ले जाते हैं और साइट और उन सभी पौधों और जानवरों के बारे में जानने के लिए जो कॉरिडोर को घर कहते हैं।
कृपया ध्यान दें: यह एक मिट्टी के ट्रैक के साथ एक मध्यम स्तर की सैर है। ऑस्ट्रेलियन वॉकिंग ट्रैक ग्रेड 3। कृपया स्थितियों के लिए उपयुक्त जूते और कपड़े पहनें। BYO पानी, टोपी, सनस्क्रीन और स्नैक्स।